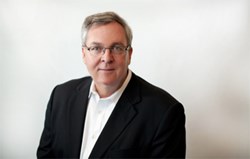 From years of experience investing in food retailing and taking 40 companies public, we identify opportunities for investing. Then when markets are undervalued, we go long and when they are somewhat overvalued as today, we pull out or short targets.
Newport Beach, CA (PRWEB) February 17, 2014
The Ivy Family Office Network hosted its 2014 Family Office Outlook Forum in Newport Beach, CA on February 6th with a discussion on "Emerging Strategies" led by David Geraty of Geraty Investments.
According to Mr. Geraty, "Geraty Investments has its own advisory and corporate development teams offering first-hand investment perspective on markets, industries and companies, both public and private. The firm has shown that integrating its proprietary knowledge and network of relationships into the investment decision-making process enables Geraty to have a significant investment advantage."
Moreover, "From our years of experience investing in the food retailing industry and taking 40 companies public, we are able to identify opportunities for investing. We look at emerging young brands and have a sort of early tracking system that allows us to identify them. Working with a reduced set of companies we identify those with brand value and talented management teams. Then when markets are undervalued, we go long and when they are somewhat overvalued as they are now, we pull out of the market or at times short some of the firms we've identified. "
Other speakers on the panel included Altus Plunkett of Elion House, Peter Kohli of DMS Advisors and Joel Block of Bulls Eye Capital.

Prior to founding Geraty Investments, David Geraty was the industry-leading sell-side food retailing analyst for over 20 years with RBC Capital Markets and its predecessors (Dain Rauscher Wessels, and Wessels, Arnold & Henderson). He is a widely-sought-after thought leader to food retailing companies, especially emerging growth restaurants and specialty food retailers, and their founders, management teams and investors. Over the course of his career, he has played a key role in identifying, following, advising and raising institutional capital for many of the leading growth food retailers.
Mr. Geraty received a Bachelor of Arts from Wake Forest University and an M.A. and four years of post-graduate studies from The University of Chicago. Outside of Geraty Investments, Dave devotes equal passion to Demon Deacon basketball and the pursuit of perfection on the course at Hazeltine National Golf Club.
About Geraty Investments
Geraty Investments is a nationally recognized, independent, institutional advisory and asset management firm focused on the trillion-dollar food retailing sector.
Within this sector, the firm has a special focus on leading growth companies in the restaurant and specialty food retailing industries. The firm is a private limited partnership with approximately 15 employees based in Minneapolis.
The Ivy Family Office Network Forum, IvyFON, provides an ongoing dialogue for family offices to support high-value education and information on trends for family office investing, structure and operational excellence. Attendees gain practical strategies and solutions to achieve both short and long-term objectives. The program features off-the-record, peer-to-peer discussions in a non-commercial setting, in-depth and highly interactive sessions.
IvyFON, is a leading peer to peer global family office network with several hundred family offices attending events around The Americas every year. Some of the more than 2,000 past speakers include most of the top 10 largest asset allocating consultancies, pre-eminent alternative investment funds, leading institutional investors, best-in-class asset management professionals, family office subject matter experts and world-class family offices.
Forum sessions are multi-format and cross-disciplinary covering a range of family office centric topics.
IvyFON originates from one of the United States' oldest and largest alternative investment networks, the IvyPlus network. IvyPlus originated as a peer to peer private equity, real estate and hedge fund network consisting of Ivy League and comparable school alumni as well as meritorious participants in the program. The group includes New York City and Los Angeles deal networks across multiple disciplines including private equity, health care and real estate. More than 14,000 investment, family office and institutional investment professionals have attended forums globally.
For more information on Geraty Investments contact Gwen Gierke at ggierke(at)geratyinvestments(dot)com or at (952) 229-8066. For more information on the Ivy Family Office Network, contact us at 646-290-8114 or at ivyfon.com/contact.html.