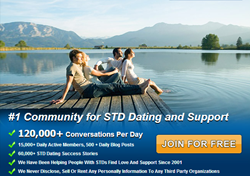 Los Angeles California (PRWEB) February 17, 2014
According to the data from the Census Bureau, there were 103 million unmarried people in the United States, who are 18 years of age and older, in 2012. More than 110 million American's have a sexually transmitted disease, according to data published on the website http://www.heath.usnews.com on February 14, 2013.
Each year, millions of single people flock to dating sites in order to find someone to love. According to those statistics, there must be many people who are infected with STDs among the millions of single people in the U.S. Not all people who are infected with STDs use a dating site that caters to people who are infected with sexually transmitted diseases. Some infected people still conceal their STD status and are not willing to disclose their illness to their partners.
Due to the nature of the holiday, there is a higher risk of being infected with a sexually transmitted disease on Valentine's Day than any other holiday. Valentine's Day is a romantic day for most people, but for people who are at risk of being infected with a sexually transmitted disease, it can be a disaster. All of the hundreds of thousands of people on PositiveSingles.com are infected with one or more STDs. A number of them are infected because of having a history of unprotected sex, so using condoms during sexual activities is very important to them.
For single people with STDs, using a dating site that caters to people who are infected with an STD is the best and safest choice. People on PositiveSingles all have similar diseases so each person is more understanding and tolerant of others. There are over 120,000 conversations on the popular dating and networking site each day. With thousands of successful matches, people not only find love, but also make many close friendships.
About PositiveSingles.com
As the largest and most trusted online dating site for people living with Herpes, HPV, HIV / AIDS, Hepatitis, Chlamydia, Gonorrhea, Syphilis and other STDs, PositiveSingles.com is completely anonymous and cares about members' privacy more than other sites. You are not required to submit any information that you are not comfortable with on this site. Whatever you are looking for Herpes dating, HPV dating, HIV AIDS dating, or any other STD dating, PositiveSingles.com is the best place.