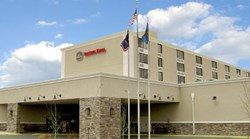 We offer the best services at the best prices possible for all our customers.
Casper, WY (PRWEB) February 17, 2014
Greenbee Parking, a growing airport parking service, has come up with brand new offers for their customers in Casper. Now the young provider will have even better deals for travelers using the Casper (CPR) airport and that too at very affordable and cheap Casper airport parking rates. They have already established themselves as a preferred service provider in their short tenure with their multilevel offers which enables travelers to pick and choose from many offers instead of limited ones. In addition customers get great deals no matter how last minute their choice is and don't have to pay through their noses to get a secure and premium location. In fact, travelers have realized that with the discounted Greenbee offers they can save anything from 30-75% on their airport parking expenses no matter how short or long the booking duration is.
"We offer the best services at the best prices possible for all our customers," said Christine Cooper – Marketing Coordinator, Greenbee Parking. "The discounted and cheap Casper airport parking rates ensure that our customers enjoy all our deals as per their needs without fearing a budget or expense rise whenever they travel."
Casper–Natrona County International Airport Parking Information
The medium sized Casper–Natrona County International Airport is quite a busy one for its size due to its proximity to the central business district of Casper. It sees quite a lot business travel and a more than its fair share of leisure travelers for both Wyoming and the gambling heaven of Nevada. Improving economy of the state and rising airport business has made it imperative for the authorities for focus on big time renovations here. One of their key areas of focus for the renovations is airport parking which has already seen major upgrades in recent times.
The authorities are further aided in this endeavor by sincere private players like Greenbee Parking. The young provider offers all Casper (CPR) airport users a wide range of parking services which are tailored to suit individual preferences as well. Their rising popularity is a testament to their honest efforts to make a difference and that too without charging a premium for it. The cheap Casper airport parking rates and innovative offers make a winning combo for all their customers here.
The Greenbee Airport Parking Solution
Greenbeeparking.com is the connection between consumers and parking vacancies in close proximity to major airports and seaports. The parking spaces are very affordable because the company has negotiated discounted rates with major hotel chains for the parking spaces that are not currently occupied. Here's how it works.
Greenbee Parking puts the available inventory of parking spaces on their website to be reserved by business and leisure travelers looking for cheap airport parking. This alternative method for finding parking equates to significant savings for the traveler. You can learn more about their offers from (http://youtu.be/RWc3dqhugFA) or via the web at (http://www.greenbeeparking.com).
About Greenbee Parking
Greenbee Parking is the nation's most innovative long term parking company, with a new way of making long term parking affordable. The company is rapidly adding new airports to its network.