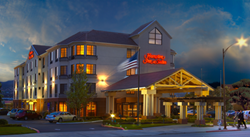 "Every Greenbee deal is carefully researched and released against exact market needs."
San Francisco, CA (PRWEB) February 19, 2014
Greenbee Parking, a growing airport parking service, has just launched a whole new set of parking deals for all travelers using the very busy San Francisco (SFO) airport. For frequent travelers their cheap SFO airport parking rates will be a bonus since they can save a bundle on their parking expenses and therefore their overall travel budgets. But the amazing thing about Greenbee's offers is that there is a great deal for everyone, even for their one time or short term customers. The wide ranges of discounted deals are meant to cater to all kinds of parking needs and are aimed to cover all traveler needs. Young as they are, this service provider has already made a name for itself with its affordable and user friendly options.
"Every Greenbee deal is carefully researched and released against exact market needs," said Christine Cooper – Marketing Coordinator, Greenbee Parking. "This is done to make sure that we make a definite difference to our customers' lives with our discounted and cheap SFO airport parking rates. These are not just random marketing spiels but real deals that will end up in a healthy bottom line for all kinds of travel budgets."
San Francisco Airport Parking Information
San Francisco is one of the busiest airports, not just in the US but in the world. This is partly because it ranks as one of the most visited places in the world by tourists from all over. But it is also because it sees a very high volume of business travelers flying in and out of SFO annually adding to its revenue and passenger volume. San Francisco is home to many leading industries and stands as the corporate headquarters of many leading conglomerates. The exotic history adds to the tourist lure of the place. The natural scenic beauty, the proximity to Hollywood, the lure of the seas and mountains all combine with beautiful wineries to add to its essential Californian charm. It is no wonder SFO sees such a high volume of business every year.
The airport and its services are constantly upgraded to provide five star travel experiences for all. Private Service providers like Greenbee Parking have added to this positive experience with their amazing parking offers and cheap SFO airport parking rate. Now every Greenbee customers can expect to save around 30-75% on their parking expenses.
The Greenbee Airport Parking Solution
Greenbeeparking.com is the connection between consumers and parking vacancies in close proximity to major airports and seaports. The parking spaces are very affordable because the company has negotiated discounted rates with major hotel chains for the parking spaces that are not currently occupied. Here's how it works.
Greenbee Parking puts the available inventory of parking spaces on their website to be reserved by business and leisure travelers looking for cheap airport parking. This alternative method for finding parking equates to significant savings for the traveler. You can learn more about their offers from (http://youtu.be/RWc3dqhugFA) or via the web at (http://www.greenbeeparking.com).
About Greenbee Parking
Greenbee Parking is the nation's most innovative long term parking company, with a new way of making long term parking affordable. The company is rapidly adding new airports to its network.