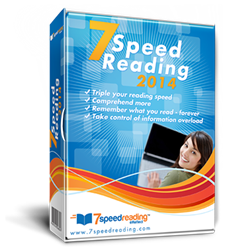 Education is key to success, and usually requires the ability to consume great amounts of information in little time.
New York City, NY (PRWEB) February 17, 2014
Barry Baines encourages 7 Speed Reading™ readers to learn how to master their own destiny rather than be a victim of the circumstances they find themselves in. He hopes that web citizens of the world will enjoy and benefit from these motivational articles that explain and teach people how they can assume control of their fate. eReflect is pleased to be able to share the insights that Baines provides.
As Baines asserts in his first article, a person's destiny is not defined by where they start out; people with difficult beginnings to overcome have managed to become leaders and millionaires, while people with promising backgrounds have often squandered their resources and talents. In his guest blog on 7 Speed Reading™ Baines affirms that the present time is the only time to make the decision to control personal destiny. He cites as examples people like Oprah Winfrey, Marie Curie, and Abraham Lincoln, emphasizing the fact that no amount of hardship, deprivation, or loss is an excuse to accept what might seem to be destiny. People have the power to change their lives by educating themselves and surrounding themselves with inspirational people.
Faster speed reading, for example, is an essential skill for changing personal destiny. Education is key to success, and usually requires the ability to consume great amounts of information in little time. This is especially important for people who are lagging behind in terms of relevant skills and hands-on knowledge, because speed reading can make all the difference in how fast a person can evolve intellectually and enjoy the subsequent socioeconomic benefits of education.
Today more than ever, when information is prioritized and deemed to be the key to ultimate power, people can change their futures by enriching their knowledge in the present day, and honing their skills for a better chance in what they are pursuing in life.
Barry Baines insists that if a person truly wants to change their life, they have to consciously make an effort to do so. Half-hearted or disorganized attempts can actually set a person back a step, so organization and perseverance are two important ingredients for personal success. Apart from the advice shared on the 7 Speed Reading™ blog, Barry Baines refers readers to his own site where more motivational articles can be accessed.
For more information about the benefits of using 7 Speed Reading, please visit the official website at http://www.7speedreading.com.
About 7 Speed Reading™
7 Speed Reading is the only modern speed reading software that uses the latest technology to produce superior results.
The software provides its users with a new way to master speed reading that guarantees three times the reading speed along with improved memory and comprehension.
The software is poised as the most comprehensive speed reading system anywhere. It contains seven learning strategies, fifteen software activities, video training, advanced tracking capabilities and many more exciting features.