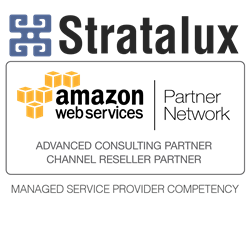 With AWS CloudTrail, customers are now able to gain new insights into their AWS infrastructures improving meantime-to-resolution, security and compliance.
Los Angeles, CA (PRWEB) February 18, 2014
Building on Stratalux's Logstash Managed Services offering, Stratalux is pleased to announce the availability of Logstash: CloudTrail Edition powered by Stratalux for immediate availability on the AWS Marketplace.
Stratalux, a leading provider of AWS Managed Services, is pleased to announce that it has added AWS CloudTrail support to its highly popular Logstash-based open-source centralized logging solution, giving customers the ability to search, analyze, and run reports on AWS CloudTrail log data. Stratalux's Logstash: CloudTrail Edition solution continuously processes logs, providing customers the benefits of:

Kibana Dashboards of CloudTrail data.
Integration of CloudTrail data with existing IT Log data.
Seeing actions taken by AWS users over specific time periods.
Determining the source IP addresses of any particular activity.
AWS CloudTrail is an Amazon Web Service that records and delivers logs of AWS API calls including the caller identity, time of the call and source IP address of the caller, as well as the request parameters and response elements returned by the service. The added visibility from AWS CloudTrail allows users to quickly and with more confidence perform tasks like security analysis, resource change tracking and compliance auditing -- saving both valuable time and money. Customizable dashboards provide an easy-to-use interface for enhanced monitoring and interpretation of data.
According to Stratalux CEO, Jeremy Przygode, "Using Logstash to build and publish a CloudTrail solution available for immediate deployment on AWS Marketplace allows Amazon customers to quickly, easily and most importantly inexpensively gain invaluable insights into their AWS infrastructures." Przygode continues, "With AWS CloudTrail, customers are now able to gain new insights into their AWS infrastructures improving meantime-to-resolution, security and compliance."
Logstash is the most economical and extensible IT log management solution on the market today, providing the benefits of a centralized logging solution without the enterprise software price tag. Logstash provides a centralized and scalable repository for all Infrastructure logs to provide unique and holistic insights. By extending the power of Logstash with AWS CloudTrail data Stratalux has enabled a variety of solutions for AWS customers including:
Compliance Aid - get access to data that provides the validation necessary for rules and regulatory standards.
Resource Life Cycle Tracking - track AWS resources from cradle to grave.
Operational Troubleshooting - get visibility into modifications made to AWS resources.
Security Analytics - Monitor AWS API calls to ensure proper access controls.
Stratalux's Logstash: CloudTrail Edition AMI is available for immediate deployment from the AWS Marketplace. Stratalux has extensive experience building and managing enterprise ready Logstash solutions built on Amazon Web Services. To find out more on how Stratalux can help organizations with their logging needs simply visit our website at http://www.stratalux.com.
About Stratalux
Stratalux is the leader in building and managing cloud solutions for the enterprise. Focused on building highly trafficked and fully automated website infrastructures for companies on the Internet, Stratalux leverages decades of experience from the world of traditional IT while being recognized as a leader in migrating and managing websites built on public cloud resources. Stratalux partners with best of breed cloud solution providers including Amazon Web Services (AWS), Chef, and Rightscale, among others. Stratalux is a technology company, that has a singular focus on cloud technologies enabling its customers to focus on what's really important; their businesses. To learn more about Stratalux visit us at http://www.stratalux.com.
Copyright (C) 2014 Stratalux. All rights reserved. Stratalux and the Stratalux logo are registered trademarks of Stratalux, Inc. and/or its affiliates in the U.S. and certain other countries. All other brands, names or trademarks mentioned may be trademarks of their respective owners.