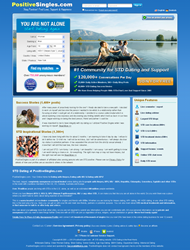 Los Angeles (PRWEB) February 18, 2014
The popular dating website for people with sexually transmitted diseases, PositiveSingles, has released the findings from its latest survey regarding incidences of herpes simplex 1 (HSV1 or oral herpes) transmission. PositiveSingles surveyed its members to ascertain the most frequent mode of transmission of HSV1 in its members' experiences.
According to members' reports, 15 members surveyed said they contracted the HSV1 virus by kissing "very occasionally." Members reported contracting HSV1 after kissing friends who has visible cold sores, which are a symptom of an outbreak of the HSV1 virus, as recently as a few months ago. In Bootle, Merseyside, a two-month-old infant died as the results of contracting the HSV1 infection after his father, who had oral herpes kissed him. PositiveSingles echoes the advice given by many medical professionals, saying people with cold sores should avoid kissing anyone, in an effort to decrease the spread of the virus. Even if there is no visible outbreak, if someone knows they have the HSV1 virus, he or she should avoid all kissing to avoid the spread of the infection as much as possible. Medical professionals state that the virus can still be transferred, even without any symptoms. Kissing anyone always comes with risk.
There was one case reported on PositiveSingles where oral herpes was contracted from friends who shared a tube of lipstick. The member stated, "The doctor warned me that the virus could be transmitted, and now it is." Besides sharing lipstick, there are many other ways that oral herpes can be transmitted. HSV1 can be transmitted by sharing eating utensils such as forks, or by sharing toiletries such as toothbrush, razors or towels. It can also be transmitted by sharing drinks or even cigarettes and pipes.
There was even a case of a girl in China who contracted genital herpes (HSV2) from a public swimming pool. This could also happen in the United States, since there is currently no law banning people with sexually transmitted diseases from swimming in a public pool. People should be aware swimming in public pools comes with a certain level of risk, even in the cleanest of environments. Children and the elderly as especially at risk.