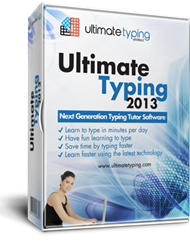 ... in order to learn how to type faster in the most efficient and effective manner, a typist needs to have exposure to expertly-designed material.
New York City, NY (PRWEB) February 19, 2014
eReflect announced today that it is proud to have a new partnership with the team Tina's Dynamic Homeschooling Plus. The collaboration is aimed at raising awareness of the importance of technological skills, specifically touch typing, in the modern homeschooling environment. eReflect, the developer of Ultimate Typing™ software, hopes to promote the importance of touch typing skills for all young students no matter where they receiving their schooling. Tina's Dynamic Homeschooling Plus presented the right opportunity in getting more homeschooling parents aware of how touch typing can be easily integrated in the lessons and activities of homeschooled children and benefit them in various ways in their future career prospects, said the company representative.
eReflect is a firm believer of the fact that in order to learn how to type faster in the most efficient and effective manner, a typist needs to have exposure to expertly-designed material. Only then will the typing student have a structured practice routine capable of improving their touch typing skills. Online and software-based typing tutor programs are the most popular way of improving typing speed and accuracy in the 21st century, and eReflect has numerous testimonials that confirm how typing programs, including Ultimate Typing™ itself, accelerate and boost typing skills quite easily.
Tina is a homeschooling mother who's recently had her class of 2013 homeschooled son graduate, and although he might not be using Ultimate Typing™ to learn to type right now, the rest of her homeschooling children most likely will.
The collaboration between eReflect's Ultimate Typing™ and Tina's Dynamic Homeschooling Plus site is seeking to establish touch typing as an easily achievable skill that 21st century students are expected to have in order to make the most out of their time. Typing skills can move a person's career potential forward, something that graduating seniors need to keep in mind, and even make a person more professional and expert-looking, solely based on flawless typing skills. eReflect feels optimistic that the goals set for this new collaboration will pay off and more homeschooling parents around the country will start to include touch typing lessons, with or without typing tutors, in their students' curricula.
For more details on Ultimate Typing™, please visit http://www.ultimatetyping.com/.
About Ultimate Typing™
Ultimate Typing™ software is designed specifically for the improvement of typing skills. Created by eReflect, a world leader in e-learning and self-development software, Ultimate Typing™ has been informed by the latest developments in the science of touch typing.
Since its creation in 2006 by Marc Slater, the company has already catered to over 112 countries all over the world, offering products with the latest cutting-edge technology, some of which are among the world's most recognized and awarded in the industry.