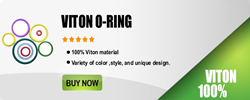 (PRWEB) February 17, 2014
TOGOHK.com is a well-known company in the silicone product industry, and Viton O-rings and cords have integrated into everyday life. Recently, TOGOHK.com has announced a promotion of Viton O-rings and cords, up to 30% off; custom Viton O-rings and cords are available here as well.
The Viton O-rings and cords from TOGOHK.com offer excellent resistance to a wide variety of corrosive fluids at elevated temperature without major degradation. TOGOHK.com is also offering many premium quality silicone cases, silicone bracelets, silicone tubes and other silicone rubber products.
"Our products are manufactured on a hydraulic press with tightly controlled temperature and pressure which ensure accurate dimensions, glossy finish, invisible flash line, properly post cured and absolutely defect free. They have excellent resistance to chemicals and petroleum. But they are not recommended for temperatures under zero operating temperatures. Below zero temperatures will make the Viton Orings hard but they usually do not break or crack." The CEO of the company states.
He adds, "We are proud of our core business values…Delivering fantastic customer service, treating customers as we wish to be treated, and backing up what we do with amazing warranties. Our products are perfect in apprearcacen and functionality, and it is our responsibility to look after every customer within our ability."
About TOGOHK.com
Founded in 2003, TOGOHK has developed into a modern enterprise that offers its clients worldwide a one-stop silicone product solution from conception to delivery. With high technology engineering and advanced CAD and CAM, the company has been serving more than 3000 customers from over 70 countries.
For more information about the business, please visit their website at: http://www.togohk.com/viton-o-rings-size-chart/.