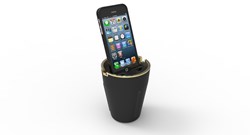 I've been in product development for over 20 years. What I've learned is that a really good design is simple. The DockNstore is simple. - Timothy R., Engineer
Temecula, CA (PRWEB) February 17, 2014
Custom Car Docks has created a new, multi-function, hands-free iPhone car dock called the DockNstore. They believe their product will change the iPhone car docking market because their car dock provides four different and unique features, not found in other iPhone car docking products.
With convenience and safety in mind, the DockNstore fits into any cars cup holder allowing the user to easily dock and undock their iPhone, while charging effortlessly. It was built with acoustic sound chambers which enhances incoming and outgoing sound. Additionally, the docking station was built at a strategic angle, allowing the user to see the phone while seating in the driver's seat. The DockNstore also stores all the messy cables, which prevents dangerous tangled cords.
Custom Car Docks creators have been working with mobile products for over 30 years. They developed the DockNstore to provide a safe car dock for iPhone users that meets all the needs of a driver in one simple product.
For more information about Custom Car Docks or to purchase the DockNstore, go to Custom Car Docks.