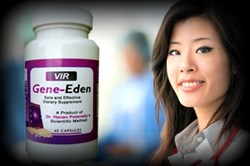 We recommend that Asian Americans ask their doctors about Gene-Eden-VIR. This natural antiviral was designed to help the immune system target the latent HBV. – Mike Evans, polyDNA
Rochester, NY (PRWEB) February 22, 2014
Asian Americans are more likely to acquire a Hepatitis B infection. In fact, "Asian Americans are 5.5 times more likely to develop chronic Hepatitis B, as compared to Whites." (See The Office of Minority Health, from August 9, 2013) (2). Moreover, "Asian American women are 1.5 times more likely to die from viral hepatitis, as compared to Non-Hispanic Whites (2)." With these high rates of infection combined with higher risk factors, polyDNA recommends that Asian Americans talk to their doctor about Gene-Eden-VIR. This natural product was clinically proven to reduce symptoms of HBV infection in a study that followed FDA guidelines.
The latest CDC statistics show that Asian American Hepatitis B cases made up almost 25% of all reported Hepatitis B infections in 2010 (See the CDC, from August 20, 2012) (3). In these patients, "The natural course of chronic HBV infection … (among those)… who acquired the disease at an early age, including those infected perinatally (time immediately before and after birth), can be classified into four distinct phases: immune tolerance, immune clearance, inactive carrier (low or non-replication), and reactivation (1)." In the study, authors wrote that "our findings suggested some patients that were previously thought to have inactive disease phases … may actually be in active HBV disease phases (1)."
In other words, even though doctors thought the virus was inactive, and doing nothing, it was actually damaging the patient.
"Hepatitis B is caused by infection with the Hepatitis B virus (HBV). The incubation period from the time of exposure to onset of symptoms is 6 weeks to 6 months. HBV is found in highest concentrations in blood and in lower concentrations in other body fluids (e.g., semen, vaginal secretions, and wound exudates)." (See the CDC, from May 16, 2012) (4).
"We recommend that Asian Americans ask their doctors about Gene-Eden-VIR. This natural antiviral was designed to help the immune system target the latent HBV." – Mike Evans, polyDNA
A study published on August 12, 2013 in the peer reviewed, medical journal Pharmacology & Pharmacy, in a special edition on Advances in Antiviral Drugs, showed that Gene-Eden-VIR reduced HBV symptoms (5).
Study authors wrote that, "Individuals infected with the Hepatitis B virus…reported a safe decrease in their symptoms following treatment with Gene-Eden-VIR (5)." The study authors also wrote that, "We observed a statistically significant decrease in the severity, duration, and frequency of symptoms (5)."
To learn more about Gene-Eden-VIR, and HBV, visit http://gene-eden-kill-virus.com/hepatitis-B-Virus.php. All orders of Gene-Eden-VIR are completely confidential, and no information is shared or sold to any third party. Privacy is assured.
References:
(1) Clinical Presentation and Disease Phases of Chronic Hepatitis B Using Conventional Versus Modified ALT Criteria in Asian Americans. Published on February 12, 2012.
http://www.ncbi.nlm.nih.gov/pubmed/24519522
(2) U.S. Department of Health and Human Services, Office of Minority Health - Hepatitis and Asian Americans. Last reviewed on August 9, 2013.
http://minorityhealth.hhs.gov/templates/content.aspx?lvl=3&lvlid=541&ID=6495
(3) CDC - Viral Hepatitis Surveillance – United States, 2010. From August 20, 2012.
http://www.cdc.gov/hepatitis/Statistics/2010Surveillance/index.htm
(4) CDC - Hepatitis B Information for Health Professionals. Last updated on May 16, 2012.
http://www.cdc.gov/hepatitis/hbv/
(5) Gene-Eden-VIR Is Antiviral: Results of a Post Marketing Clinical Study. Published August 12, 2013.
http://gene-eden-kill-virus.com/PP_Gene-Eden-VIR-is-Antiviral.pdf
polyDNA is a biotechnology company that develops dietary supplements using the unique scientific method developed by Dr. Hanan Polansky, which is based on Computer Intuition.
In addition to his unique scientific method, Dr. Polansky published the highly acclaimed scientific discovery, called Microcompetition with Foreign DNA. The discovery explains how foreign DNA fragments, and specifically, DNA of latent viruses, cause most major diseases.
polyDNA developed Gene-Eden-VIR, an antiviral natural remedy that helps the immune system kill latent viruses.