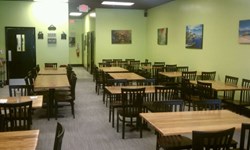 Metal chairs are a great choice because they are so durable.
Alpharetta, GA (PRWEB) February 17, 2014
Leading commercial furniture distributor Restaurant Furniture Supply recently helped Tassa Caribbean successfully open its second restaurant in Alpharetta, GA.
Tassa Caribbean Restaurant was established in February of 2006 by self-taught food creator and passionate entertainer Radhika Edoo. Fueled by a noticeable lack of Caribbean food fare, and a genuine talent for preparing selections that delight the taste buds of her own people and locals alike, opening Tassa was an obvious decision.
The cuisine is an authentic reflection of the peoples of Trinidad and Tobago and the entire Caribbean region as a whole. Customers will delight in a taste forged from an implosive fusion of ingredients and traditions brought to the Caribbean during its early formation by the people of the African and Asian continents. The result is a delicious culinary experience complemented by sauces and side dishes bursting with flavor. Patrons with a Caribbean background flock to the restaurant for a taste of nostalgia. Local Americans have also been finding favor with this style of food that possesses broad appeal.
When the owner opened his second location in Alpharetta, GA he turned to Restaurant Furniture Supply for new commercial chairs because of their reputation for excellent quality at affordable prices explained sales person Chris K. He opted to go with Restaurant Furniture Supply's Elongated Vertical Back Chairs in black frame finish and solid wood seats in mahogany finish. "It's one of our most popular restaurant chairs," said Chris. "The stylish design really makes a big difference and adds a lot of class. Metal chairs are a great choice because they are so durable. Restaurant Furniture Supply is well known for its high quality commercial furniture which can withstand heavy traffic and not become unstable or worn out for many years."
The Elongated Vertical Chair is currently on sale for only $35 from Restaurant Furniture Supply, which also has a matching bar stool which is on sale for $54. Free shipping is available on 24 or more chairs. The frame is available in black, copper vein, silver vein, gold vein or gold. Customers have the choice of a solid wood seat or an American made high density padded seat. The seat is upholstered in vinyl or fabric and can also be custom made for an additional cost.
Browse Restaurant Furniture Supply's full selection of commercial grade chairs, bar stools, table tops, table bases, booths and patio furniture at http://www.restaurantfurnituresupply.com/or talk to a customer service representative at (888) 346-9992.
Tassa Caribbean Restaurant is located at 4005 Old Milton Pwky., Suite 104 in Alpharetta, GA. They can be contacted at (770) 977-3163.