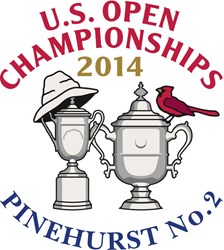 Far Hills, N.J. (PRWEB) February 17, 2014
The United States Golf Association (USGA) today announced that all Series ticket packages, a first-time offering which included a ticket for each day of the 2014 back-to-back U.S. Open Championships and access to VIP parking, are sold out. The U.S. Open (June 9-15) and U.S. Women's Open (June 17-22) will be held at Pinehurst Resort & Country Club's Course No. 2.
Weekly and daily tickets for the U.S. Open and the U.S. Women's Open are still available, but are expected to sell quickly.
In 2014, the U.S. Open and U.S. Women's Open Championships will be held in consecutive weeks and on the same course for the first time. With a current streak of 27 consecutive sellouts for the U.S. Open Championship and the promise of record-breaking attendance at Pinehurst, this year's championships are expected to generate strong interest.
Ticket orders will only be accepted on USGA websites at http://www.usopen.com or http://www.usga.org/tickets or if received via a mailed application. Questions and requests for a printed application can be directed via email to ticketquestions(at)usga(dot)org or by calling 1-800-698-0661.
This year's U.S. Open will be the third contested on Pinehurst No. 2 and the first since 2005. The U.S. Women's Open has been held three times at nearby Pine Needles Lodge & Golf Club in Southern Pines, most recently in 2007.
Pinehurst No. 2 has hosted six USGA championships, including two U.S. Opens. In 2005, Michael Campbell became the first New Zealander to win the U.S. Open with a two-stroke victory over Tiger Woods. The 1999 U.S. Open at Pinehurst provided one of the most dramatic finishes in golf history when Payne Stewart, who was recently announced as the 2014 Bob Jones Award recipient, sank an 18-foot par putt on the 72nd hole to edge Phil Mickelson by one stroke. Pinehurst also hosted the 1962 U.S. Amateur, won by Labron Harris Jr.; the 1989 U.S. Women's Amateur, won by Vicki Goetze; the 1994 U.S. Senior Open, won by Simon Hobday; and the 2008 U.S. Amateur, won by Danny Lee.
About the USGA
The USGA conducts the U.S. Open, U.S. Women's Open and U.S. Senior Open, as well as 10 national amateur championships, two state team championships and international matches, attracting players and fans from more than 160 countries. Together with The R&A, the USGA governs the game worldwide, jointly administering the Rules of Golf, Rules of Amateur Status, equipment standards and World Amateur Golf Rankings. The USGA's reach is global with a working jurisdiction in the United States, its territories and Mexico, serving more than 25 million golfers and actively engaging 150 golf associations.
The USGA is one of the world's foremost authorities on research, development and support of sustainable golf course management practices. It serves as a primary steward for the game's history and invests in the development of the game through the delivery of its services and its ongoing "For the Good of the Game" grants program. Additionally, the USGA's Course Rating and Handicap systems are used on six continents in more than 50 countries.
For more information about the USGA, visit http://www.usga.org.