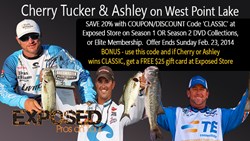 Bass and thunderstorms don't get along.
Yankton, South Dakota (PRWEB) February 17, 2014
Exposed anglers, including Hank Cherry, Casey Ashley, Brandon Palaniuk, GMAN Gerald Swindle, Aaron Martens, Jason Christie, Shaw Grigsby, Mike McClelland, and 48 others face off at the Classic, which takes place in Alabama on Lake Guntersville on Feb. 21-23.
Classic entrants Hank Cherry and Casey Ashley also appear this week for the first time on Exposed, along with Elite anger J. Todd Tucker. The three reveal strategies and tips for working through the difficult practice days that led up to the Elite Series West Point Lake Battle in May of 2013. In addition to storms and hail having just passed through the area, the fish were post-spawn. During this time in the spawn cycle, bass become notoriously reluctant to take the bait.
Hank Cherry, 2013 Rookie of the Year and Bass All-Star Champion, points out on the first day of practice that "bass and thunderstorms don't get along" but reminds the fans, "It's not what you catch when you're practicing. It's what you see and what you find." Despite him cautioning fans that the day would be a challenge, Cherry explores shad spawns, deep docks, and bridges, getting about 35 bites, including back-to-back four-and-a-half pounders. Cherry's success during the first day of practice would follow him to the tournament, where he would land a 4th-place finish with a total weight of 41.2 pounds.
Elite veteran J. Todd Tucker brought the Exposed crew with him on day two, as he searched the lake, studying post-spawn conditions in waters from six inches to twenty-five feet deep. As Hank Cherry had pointed out the previous day, Tucker also reminds viewers that "During practice, it's not about catching them, it's about eliminating water and trying to find a few places or a pattern that you can carry throughout the lake." While Tucker struggled during the tournament, the Exposed crew captured him bringing in a ten-pound striper, co-host Tim Horton adds important commentary regarding this catch and how even a striper can be considered beneficial during practice.
The Exposed crew followed three-time Elite champion Casey Ashley on the final day of practice as he returned to protected waters he had fished earlier in the week. The conditions had changed, however, as the water on the lake had risen a foot. As he eliminates water during the final practice day, Ashley echoes the sentiments of Cherry and Tucker that this would be a tough tournament and that sometimes practice days were about discovering "where not to go." Ashley made the elusive final day cut though and finished the West Point Lake Battle "in money" taking the 11th-place spot.
As Exposed premiers again on Feb. 17 at ProPatterns.com, ProPatterns Inc. also readies for its 2014 Fantasy Fishing competition, set to kick off with the first regular season Elite event, the Dick Cepek Tires Bassmaster Elite Series at Lake Seminole, which takes place on March 13-16. Fantasy Fishing will include four anglers, Tim Horton, Brian Snowden, Matt Reed, and Mike McClelland, all four have upcoming Exposed premiers as well.
About ProPatterns, Inc. and Exposed:
ProPatterns, Inc. is a leader of angling education offering a variety of fishing tips and membership services online including competitions to win exclusive prizes.
Information is gathered from various sources and disseminated with members in a variety of ways. The Exposed video series, for example, gains all of its integrity from an alignment with the biggest names in the bass fishing industry including professionals who fish with BASS, FLW, and PAA. Cooperation from the anglers and their willingness to share is the catalyst for the growth of this series.
Season 1 of Exposed features 22 professional videos in a 9 disc collection DVD set, it can be ordered at the ProPatterns online store. The set includes over 20 hours of video, and is also available in a pay per view format at http://www.propatterns.com.
Season 2 of Exposed, also available on DVD, features 24 pros and over 16 hours of footage on an eight disc collection. Pay per view options for Season 2 are available online at http://www.propatterns.com as well.
Finally, the much anticipated Season 3 is now available online, and includes 24 anglers on new lakes with new enhanced editing. FREE for Elite Members and available in pay per view for Social Members exclusively at http://www.propatterns.com.
The company is based in Yankton, South Dakota, home of CEO and President Chad Ekroth. Ekroth's background includes a computer science degree and business experience involving several successful startups. When not tending to business, Ekroth spends his time tournament fishing and engaging in other outdoor related activities which help educate and protect the future of angling and hunting.
Visit http://www.ProPatterns.com today to receive all of the latest information about the Exposed videos series and to learn more about all of the member services available.