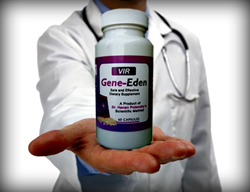 We recommend individuals get a flu shot and take Gene-Eden-VIR. This natural antiviral was proven to reduce viral symptoms in a post-marketing clinical study that followed FDA guidelines. – Mike Evans, polyDNA
Rochester, NY (PRWEB) February 24, 2014
Health authorities continue to urge the public to get the flu shot. This is seemingly good advice since "a new study from Duke University Medical Center that found virtually all of the people with influenza who ended up in intensive care earlier this flu season had chosen not to get the annual flu vaccine (1)." Additionally, Dr. Cameron Wolfe, the study's lead author said that, "Over and above the reduction in the number of flu cases for those who have been vaccinated, our study also seems to support a reduction in severe illness (1)." In contrast, other research has shown that the effectiveness of the flu vaccine was low, and that a person's immunity against the flu disappeared in a short amount of time. "These results suggest a low preventive effect of the 2011/12 seasonal influenza vaccine, and a decline in VE (vaccine effectiveness) with time since vaccination." (See the European medical journal Eurosurveillance, from January 31, 2013) (2).
Another study found that the flu vaccine against the most common strain in 2012 (H3N2) offered very little protection. In other words, it was not effective. As study authors wrote, "Overall… protection against influenza (H3N2) infection was low, with significant intraseasonal waning." (See the European medical journal Eurosurveillance, also from January 31, 2013) (3).
polyDNA believes that using a natural antiviral in addition to the flu shot makes sense, as a study found that, "The prevalence of chronic viral infectious diseases, such as … influenza virus…and resistance to currently used antiviral drugs have led to increased demand for new antiviral strategies and reagents… Virus-targeting antivirals can function directly or indirectly to inhibit the biological functions of viral proteins, mostly enzymatic activities, or to block viral replication." (See Trends in Pharmacological Sciences, from February 2014) (4).
"We recommend individuals get a flu shot and take Gene-Eden-VIR. This natural antiviral was proven to reduce viral symptoms in a post-marketing clinical study that followed FDA guidelines." – Mike Evans, polyDNA
A study published on August 12, 2013 in the peer reviewed, medical journal Pharmacology & Pharmacy, in a special edition on Advances in Antiviral Drugs, showed that Gene-Eden-VIR reduced viral symptoms. Study authors wrote that, "Individuals… reported a safe decrease in their symptoms following treatment with Gene-Eden-VIR (5)." The post marketing study authors also wrote that, "We observed a statistically significant decrease in the severity, duration, and frequency of symptoms (5)."
To learn more about Gene-Eden-VIR, visit http://www.gene-eden-kill-virus.com. All orders of Gene-Eden-VIR are completely confidential, and no information is shared or sold to any third party. Privacy is assured.
###
References:
(1) Flu Hits Unvaccinated Hardest, Study Finds. Published on February 14, 2014.
http://health.usnews.com/health-news/articles/2014/02/14/flu-hits-unvaccinated-hardest-study-finds
(2) Decline in Influenza Vaccine Effectiveness with Time After Vaccination, Navarre, Spain, Season 2011/12. Published on January 31, 2013.
http://www.eurosurveillance.org/ViewArticle.aspx?ArticleId=20388
(3) Vaccine Effectiveness of 2011/12 Trivalent Seasonal Influenza Vaccine in Preventing Laboratory-Confirmed Influenza in Primary Care in the United Kingdom: Evidence of Waning Intra-Seasonal Protection. Published on January 31, 2013.
http://www.eurosurveillance.org/ViewArticle.aspx?ArticleId=20389
(4) Current progress in antiviral strategies. Published in February 2014.
http://www.ncbi.nlm.nih.gov/pubmed/24439476
(5) Gene-Eden-VIR Is Antiviral: Results of a Post Marketing Clinical Study. Published on August 12, 2013.
http://gene-eden-kill-virus.com/PP_Gene-Eden-VIR-is-Antiviral.pdf
polyDNA is a biotechnology company that develops dietary supplements using the unique scientific method developed by Dr. Hanan Polansky, which is based on Computer Intuition.
In addition to his unique scientific method, Dr. Polansky published the highly acclaimed scientific discovery, called Microcompetition with Foreign DNA. The discovery explains how foreign DNA fragments, and specifically, DNA of latent viruses, cause most major diseases.
polyDNA developed Gene-Eden-VIR, an antiviral natural remedy that helps the immune system kill latent viruses.