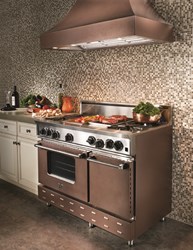 BlueStar offers more than 750 colors and finishes, and the Textures line takes color into another dimension with a new line of 10 textured paints and finishes that add depth and fresh appeal to kitchen appliances.
Reading, PA (PRWEB) February 18, 2014
BlueStar™, manufacturer of restaurant-quality appliances for the home, made the third-annual list of 30 Most Innovative Products for kitchen and bath design from Kitchen + Bath Ideas magazine for its Textures color and finish options for its line of ranges and hoods. All 30 new products will be featured in the spring issue of the magazine (on sale March 11, 2014) and the full list of products can be found at bhg.com/KBI30Most. The top 30 were selected by the editors for their ability to combine smart function, seamless style, and cutting-edge technology.
"We wanted to recognize those products and manufacturers that were changing the conversation in the kitchen and bath industry by offering consumers the opportunity to significantly enhance their home experience in new and exciting ways," says Samantha Hart, editor-in-chief of Kitchen + Bath Ideas. "These top products work better, faster, and smarter than ever before. They also combine form and function with fun, which is so important to today's homeowner."
"BlueStar offers more than 750 colors and finishes, and the Textures line takes color into another dimension with a new line of 10 textured paints and finishes that add depth and fresh appeal to kitchen appliances," says Eliza Sheffield, vice president, Marketing, BlueStar. "With the addition of the Textures line, BlueStar offers a new level of customization options for our discerning customers."
BlueStar has been a leader in color customization for nearly a decade, offering its cooking equipment in over 750 colors as well as custom colors. Now, this appliance innovator offers a new alternative to the typical stainless steel or white finish to help people make a unique statement in their kitchens. The Textures collection includes three textures – River, Silver Vein and Mini Texture.
"Texture is a design element which may be overlooked when decorating the kitchen, but it has the ability to add a novel dimension to the room's interior," says Sheffield. "Consumers are looking for new ideas to help make their kitchens more personalized, so having a unique option like Textures is truly exciting."
Handcrafted in Reading, PA since 1880, BlueStar ranges come in an infinite number of unique configurations, including grill and griddle options, to accommodate all cooking needs. For more information, visit http://www.bluestarcooking.com.
Kitchen + Bath Ideas is a Better Homes and Gardens special interest media publication (circulation -- 290,000) and is published quarterly for $6.99 per issue. Kitchen + Bath Ideas is the leading kitchen and bath magazine and is filled with ideas, inspiration, and information about the latest products and trends. Featured kitchens and baths showcase a range of styles, from traditional to contemporary and everything in between. Beautiful, full-color photographs convey a real-people/real-solutions approach to home design.
About BlueStar
Handcrafted in Reading, PA since 1880, BlueStar® cooking products are designed for discerning home chefs who demand restaurant-quality results in their own kitchens. The BlueStar product line features high-performance gas ranges, cooktops, wall ovens and hoods. BlueStar's unique performance features include an open gas burner system that produces up to 25,000 BTUs of cooking power, precise 130 degree simmer burners, and oversized convection ovens with professional-grade infrared broilers. Available in over 750+ colors and finishes, and with almost infinite configuration possibilities, BlueStar® premium cooking products offer virtually unlimited personalization options.
About Meredith
Meredith Corporation (http://www.meredith.com) is the leading media and marketing company serving 100 million American women every month through multiple well-known national brands and local television brands in fast-growing markets. Meredith is the industry leader in creating content in key consumer interest areas such as home, family, food, health and wellness and self-development. Meredith uses multiple distribution platforms – including print, television, digital, mobile, tablets, and video – to give consumers content they desire and to deliver the messages of its advertising and marketing partners. Meredith's daily one hour lifestyle program, The Better Show, airs weekdays in more than 160 markets across the U.S., and to 90 million homes on the Hallmark Channel.
Additionally, Meredith uses its many assets to create powerful custom marketing solutions for many of the nation's top brands and companies. Meredith Xcelerated Marketing has significantly added to its capabilities in recent years through the acquisition of cutting-edge companies in digital, mobile, social, healthcare, database, and international marketing.