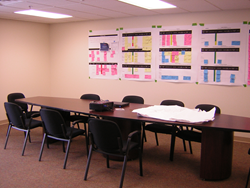 Dexter, MI (PRWEB) February 18, 2014
Protomatic has expanded capacity since being identified by the State of Michigan Innostate Program as one of 30 companies positioned to help entrepreneurs take product concepts into prototypes and low-volume manufacturing.
To help these companies turn their ideas into reality, Protomatic will provide them with space in the fully functional business offices recently constructed in the Dexter, MI plant.
Having offices at Protomatic will enable entrepreneurs to easily receive design support from Protomatic engineers, as well as see their parts actually being manufactured. Subtle design modifications can be readily performed since machinists are just a short walk away.
Gaining insight into manufacturing difficulties as prototypes move from early through final design stages is another big advantage of being based on site. Seeing problems as they develop makes it easier to make adjustments and apply "design-for-manufacturing" techniques.
By being chosen for the Innostate Program, Protomatic will also be able to provide access to super computers, software, and technical support groups that are normally beyond the reach of start-up companies.
Protomatic's involvement with Innostate is an expansion along a natural evolutionary path of doing business, and very much in keeping with their long-time support of many educational groups such as the University of Michigan, Eastern Michigan University, Washtenaw Community College and the Society of Manufacturing engineers.
They look forward to supporting the Innostate Program and helping accelerate the success of southeast Michigan manufacturing. For more information about the expansion or Protomatic's involvement with Innostate, call 734-426-3655.
Protomatic specializes in Life-Saving Precision. The company resides in a 30,000 square-foot facility at 2125 Bishop Circle West in Dexter, Mich. Their areas of expertise include prototype machining and custom short-run precision CNC milling and turning. In addition to those services, Protomatic will customize, produce and assemble parts and systems for numerous industries and jobs. Industries served include medical, aerospace, automotive, military, and several other markets.