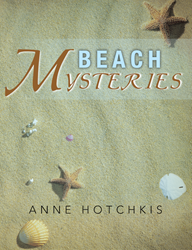 The motivation was to create a multi-purpose book all children could relate to.
Charlottetown, Canada (PRWEB) February 19, 2014
Health and wellness organizations have cropped up recently, advocating that children spend at least 60 minutes a day engaging in some sort of physical activity.
Programs like the NFL's "Play 60" initiative encourage children to play daily, but there are times when physical activity is out of mind. For instance, when on vacation it's nice to relax and enjoy the moment. There are several ways however, to stimulate the body and mind with some quality family time.
Anne Hotchkis, a retired teacher, has introduced a new book, "Beach Mysteries" that encourages children and adults alike to learn and explore. Based on sea life in the intertidal zone, the interactive book combines poetry and marine biology to offer amusement and adventure. The fun-filled adventure book is perfect for toting to the beach to discover the wonders of the sea through the eyes of a child. It engages children, adolescents and adults as they wander leisurely on the beach.
Growing up in Amherst, Nova Scotia, Hotchkis spent the summers of her youth at the beach on the Northumberland Strait. She enjoyed strolling, clam digging, catching fish and pondering the hidden mysteries of the intertidal zone.
"The motivation was to create a multi-purpose book all children could relate to… What better idea could I have living on Prince Edward Island and sharing a beach mystery with children and their families?"
"Beach Mysteries" encourages readers to learn about their current environment and exercise caution in removing sea creatures from their natural habitats. Hotchkis advocates exploring new areas and allowing children to put their imaginations to use.
Beach Mysteries
By: Anne Hotchkis
ISBN: 978-1-4817-0642-1
Available at Amazon, Barnes and Noble and Authorhouse online bookstores.
About the author
Anne Hotchkis grew up in Amherst, Nova Scotia and frequented the beach on the Northumberland Straight quite frequently. She developed a strong interest in the ocean and studied marine biology at Mount Allison University. She taught for several years before retiring with her husband to their current home on Prince Edward Island, Canada. She continues to work on her prose and poetry.
# # #
**FOR IMMEDIATE RELEASE**
EDITORS: For review copies or interview requests, contact:
Jonathan McAfee
317-602-7137 | jmcafee(at)bohlsengroup(dot)com
(When requesting review copies, please provide mailing address.)