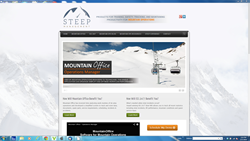 Warren, VT (PRWEB) February 20, 2014
Given Steep Management's goal to be the source for training, safety and maintenance management through software, it was of the greatest importance to create a website that served the viewers with user resources such as editorials, videos and frequent blog posts. This interactive site would allow for first-rate dialog and information sharing with mountain operations staff in any region, from front line technicians to management.
Steep's belief is that improvement in mountain operations is grounded in the use of technology not only for the improvement of technical training for lift mechanics, but also ski patrollers, groomers, snow-makers and lift operators. The products represented by Steep – MountainOffice and ISS 24/7 Skier – are software packages that enable enhanced distribution of information and allow staff to have a dramatic improvement in mountain operations' efficiency.
To facilitate a simple yet effective website Steep appointed Jon Parker from Recharged Business Solutions of Boscawen, NH. Jon, an avid skier and former racer, brought his love of the sport to the design strategy, understanding the need for a straightforward display of information and a simplistic user experience.
Steep Management, founded in 2009, concentrates its efforts solely in the ski resort and ski community arena with a focus on strategic implementation, leadership development and organizational performance improvement. The principal of Steep is Bob Ackland, a ski executive with over 40 years experience in the outdoor recreation industry – 20 of which in the ski resort management field.