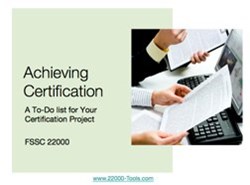 Because this Certification is based on an ISO standard and recognized by GFSI, it is gaining in acceptance and popularity across the globe. It is user friendly, and integrates nicely with other ISO standards such as ISO 9001 and ISO 14001.
Minneapolis, MN (PRWEB) February 18, 2014
Demand for Food Safety System Certification (FSSC 22000) has never been higher. More and more large retailers and manufacturers expect their customers to achieve food safety certification to help prevent illness and costly, damaging recalls of products. FSSC 22000 reports exponential growth with more than 7,000 certificates issued in 113 countries, a significant jump from just 1,000 reported certificates in 2012. Vinca, LLC helps companies understand the steps involved in preparing for FSSC 22000 by offering a free PowerPoint Presentation. Vinca, LLC's free PowerPoint Presentation gives companies a 6-point to-do-list covering the basic steps to follow to get started with FSSC 22000.
FSSC 22000 is a Food Safety Management System Certification Scheme that is recognized by the Global Food Safety Initiative (GFSI). It is the world's leading food certification scheme for ISO 22000-based certification of food safety management systems.
About Vinca, LLC
Vinca, LLC provides online training that has helped hundreds of companies prepare for certification since 2001. Vinca's goal to provide clients with a Food Safety Management System that is effective easily maintained and provides for the production of safe product.