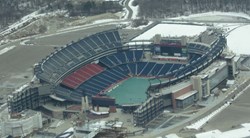 Boston, MA (PRWEB) February 18, 2014
Ticket Down has reduced prices for the friendly soccer match between Portugal and Mexico at Gillette Stadium. With the large Portuguese population in the Boston metro area, tickets for this match will sell out very quickly. The friendly match between Portugal and Brazil in September, 2013 brought record crowds to witness international soccer and the upcoming match in June between Mexico and Portugal will undoubtedly attract diehard soccer fans in the Boston metro area.
With the World Cup just a few months away, time is running out for the 32 teams that qualified for the event this year to complete their final preparations. From determining their best starting lineup to who will even be on the roster, most teams will use their final warm-up games to decide what their best chance to succeed will be. Two of the teams that have qualified that will be making final adjustments at Gillette Stadium on June 6 will be Portugal and Mexico.
These two popular national teams will play at the home of the National Football League's New England Patriots. The venue is located in Foxborough, Massachusetts and originally opened in 2002. The venue can seat more than 68,000 fans for American football and has experience in hosting international football before as the New England Revolution from Major League Soccer play here. The facility will likely be filled to capacity when Mexico and Portugal take part in their final international friendly game before traveling to Brazil.
Portugal is currently ranked as the fourth best team in the world by the Fédération Internationale de Football Association, or FIFA. The team is led by the best player in the world, Cristiano Ronaldo, who will be looking to help his nation do better than they did four years ago in South Africa when they finished in 11th place after finishing second in group play. With another four years of experience under his belt as a leader, anything other than a victory at this World Cup would be a disappointment.
Portugal has now qualified for six World Cup tournaments and has never finished better than third place, a position they earned in 1966 when they had one of their best teams of all time. When Portugal plays Mexico in the United States before traveling to Brazil, they will also be led by Helder Postiga (66 caps, 27 goals), Hugo Almeida (53 caps, 17 goals), Nani (72 caps, 14 goals), Raul Meireles (72 caps, 9 goals), Bruno Alves (70 caps, 10 goals) and their keeper, Rui Patricio (29 caps).
The Mexican national team is currently ranked as the 20th best team in the world according to FIFA. They have won four straight matches since losing to Costa Rica in their World Cup qualifying group. In victories against Finland, New Zealand (twice) and South Korea, Mexico has outscored their opponents 17-5. Before playing Portugal in their final warm-up before the World Cup, they will also take on Nigeria, United States, Ecuador and Bosnia and Herzegovina.
When Mexico takes to the pitch for this game, they will have a very experienced starting group, mixed with a lot of young talent. As usual, they will be led defensively by Rafael Marquez (116 caps, 14 goals) and Francisco Javier Rodriguez (89 caps, 1 goal), and offensively by Oribe Peralta (29, caps, 16 goals) and Aldo de Nigris (28 caps, 9 goals). The team can still add some of their more experienced offensive players to the roster and if that occurs, could make for an interesting game.
About TicketDown.com:
Ticket Down delivers tickets to sold out concerts and events worldwide when no one else can, and they do so at discounted prices. As a member of TicketNetworkDirect, they can guarantee the delivery of tickets on time for sporting events like NASCAR, NBA, NFL, and NHL. This popular ticket exchange also has Portugal vs. Mexico tickets at Gillette Stadium on Friday, June 6th.