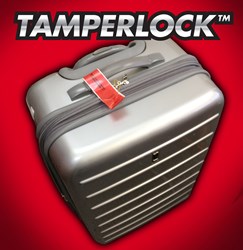 Most people don't realize the value in protecting their bags because they haven't experienced theft issues while traveling. However, luggage theft is far more prevalent than people think. In my opinion, why take the risk of not using them?
Montreal, Quebec (PRWEB) February 18, 2014
Tamperguard, the leading manufacturer of tamper evident indicators, has just announced the launch of their new luggage security label, Tamperlock. Tamperlock labels cannot be removed from your luggage without leaving clear and obvious evidence of tampering.
Tamperlock was created to protect against luggage theft and deter thieves from stealing. Tamperlock security labels are easy to apply and inexpensive to use. Nothing can be removed from, or put into a suitcase protected by Tamperlock without leaving clear and obvious signs of tampering. Even extreme temperature (heat or cold) cannot be used to defeat the adhesive.
Tamperlock is quickly becoming the popular way to travel as more and more people are seeing the value in protecting their bags with these innovative labels. It employs the same technology utilized to protect cash in transit for banks and armoured carriers worldwide.
"I use Tamperlock labels because they are easy to use and reassuring," said Maryse Benhoff, President, BG Communications International Inc. "I would recommend it to anyone who wants to be sure no one has slipped anything into their bag during travel."
Baggage theft is a common occurrence in all types of travel, land, air and sea. Many people choose locks to protect their bags; however locks do little to safeguard bags from thieves. Bags can be easily opened, items can be removed or put in, and reclosed without the lock being removed. With Tamperlock, your luggage cannot be opened without your knowledge and the label cannot be removed without leaving evidence. Each label also has its own serial number; therefore it can't be replaced with a different label.
"I did a lot of research on luggage theft when I first came up with the idea to create Tamperlock," explained William Drori, President of Tamperguard. "Most people don't realize the value in protecting their bags because they haven't experienced theft issues while traveling. However, luggage theft is far more prevalent than people think. It only takes one time for your entire world to be thrown off balance. Tamperlock is a quick, easy and inexpensive way to safeguard your valuables. In my opinion, why take the risk of not using them?"
About Tamperguard
Tamperguard has over two decades of experience manufacturing highly sophisticated tamper evident security tape used in the demanding currency transfer bag industry. This same technology has been adapted for Tamperlock luggage security labels. The Tamperguard line of security tapes and labels display clear evidence of any attempt at removal. http://www.tamperlock.com
For more information, please contact:
Mireille Alvo
Online Marketing Director
Tel: (514) 276-3681 ext.14
Fax: (514) 276-8135
email: info(at)tamperlock(dot)com
http://www.tamperlock.com
-###-