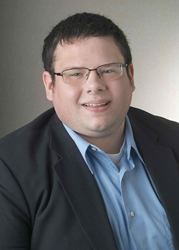 Rob is able to apply the things he's learned to real life problems and we're real happy to have him on our team.
Chardon, OH (PRWEB) March 12, 2014
EGC Enterprises, Inc., a manufacturer of severe service, flexible graphite products and materials for fluid sealing and thermal systems applications, has named Robert Garlock to Product Development Engineer. Garlock is responsible for designing, developing and testing of flexible graphite solutions for industry needs and other customer specific applications. He works closely with the research and development team and manages the progress on engineering projects.
"Rob is an extremely intelligent guy," says Brian Biller, Chief Engineer, "and we're real happy to have him on our team. He's able to apply the things he's learned to real life problems. Right now, Rob works mostly on fluid sealing products, particularly stem packing. But he's also worked quite a bit on thermal systems applications. And, he's very dynamic when engaged with EGC customers," says Brian.
Garlock's mission is to engineer products that can be easily manufactured. "I think that's the one thing that engineers forget. When you ask 'how will you make it' and the answer comes back 'I don't know', that's really unacceptable", says Garlock.
"As a senior project at Ohio University, my team and I worked with people with disabilities who were trying to squeeze product from a big bottle into a small, sample bottle", says Garlock. "It was very cumbersome even for people who had no disabilities. We designed a nozzle and a canister that made the process significantly easier and grew the profit margin for the company. We truly designed and manufactured something to make a difference."
Garlock graduated summa cum laude in Mechanical Engineering from Ohio University . He has lived in Ohio all his life and currently resides in Chardon.
Corporate Profile
EGC is a recognized world leader in the engineering and manufacturing of graphite and graphite composites for high temperature applications in fluid sealing or thermal systems management.