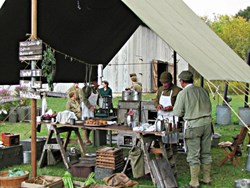 Our mission is to carry on the Veterans memory, honor and sacrifice. So authenticity means everything to us. -Byron Cooky Vinyard
Fredericksburg, Texas (PRWEB) February 18, 2014
What kept our fighting men going during World War II? It wasn't just the drive of duty or the letters from back home, a huge moral boost came in the form of a hot meal and hot coffee. This boost was available thanks to men of the Quarter Master Corps and their portable field kitchens.
From March 7 - 16, you can see one of these kitchens in its original form and still cooking at the National Museum of the Pacific War as a special temporary exhibit. The kitchen will be a part of the Pacific Combat Zone Tour during the week and the living history shows on March 8th and 9th.
Byron "Cooky" Vinyard from the Tri-State Living History Association has spent the last 10 years putting this kitchen together. He has traveled all over the country providing meals for veterans on special days and educating the public on the history of World War II. "Our mission is to carry on the Veterans memory, honor and sacrifice. So authenticity means everything to us," Byron Vinyard said when interviewed by a local PBS station in Illinois one Veterans Day.
For more information and pictures of the kitchen in action click here. If you would like to purchase tickets to the Living History Shows that weekend, the museum offers a discount when purchased online.