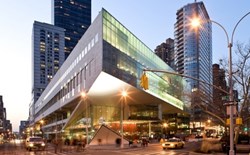 ExploreTalent.com came up with this list as a guide for their members and other aspiring talents who want to be the best in their craft.
(PRWEB) February 20, 2014
The Juilliard School's Drama division scores the top spot for Explore Talent's list of the top drama schools for 2014. Juilliard School's high regard for excellence and rigorous training are some of the reasons why Explore Talent, the leading talent resource website, chose them as number one on their list. The school also boasts of being the center for world-class talent not only for acting, but also for music and dance.
Coming to a close second on their list is Yale School of Drama where actresses Meryl Streep and Sigourney Weaver made use of their numerous student productions as a place for perfecting their own brand of acting. London's own Academy of Music and Dramatic Arts (LAMDA) finished in closely at the third spot while New York University's Tisch School of the Arts took the fourth spot.
The Royal Academy of Dramatic Art (RADA) in London, home to actors Ralph Fiennes and Anthony Hopkins, garnered a top spot in the list where they landed on the fifth spot. RADA has one of the best facilities for performing arts in the UK. US's oldest institution for drama, Carnegie Mellon University followed RADA closely on the sixth spot.
Australia had their own share of the top as their National Institute of Dramatic Art took the seventh spot of the list. The institution served as training grounds for both Academy Award-winning actors Cate Blanchett and Mel Gibson. Rounding out the list of top drama schools are University of North Carolina School of the Arts at the eighth spot; State University of New York at Purchase on the ninth; and Northwestern University on the tenth spot.
Explore Talent is the leading talent resource website that serves more than 8 million members and provides these members with over 40,000 job openings for acting, dancing, modeling and music. Their main goal is to make the actor's search for acting jobs and acting auditions a lot easier by sending email alerts to their members and compiling the largest database for auditions and jobs.
Their website also has several features like contests and celebrity videos where aspiring actors can get some tips from. They further expand these features by giving the members bankable advice and information through articles that will give them insight and tips on the things that they need to do and what they should not do.
ExploreTalent.com came up with this list as a guide for their members and other aspiring talents who want to be the best in their craft that it will be hard for Casting Directors to turn them down. Along with the other tips on their website, Explore Talent wishes their members to be at the very top of their game. According to them, drama schools help actors become more versatile and effective in their performances.
For more acting audition tips and auditions, visit http://www.ExploreTalent.com.