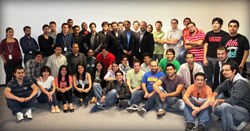 "As a web and mobile app company with delivery team located in Guadalajara, Mexico, we consider the Outsourcing World Summit to be a very important event for entrepreneurs and outsourcing executives" Abhijeet Pradhan, CTO of iTexico
Lake Buena Vista, Florida (PRWEB) February 17, 2014
iTexico, a nearshore software company focused on providing extended teams with highly qualified talent in the field of web and mobile app development, has announced that its CEO, Anurag Kumar will be present at the Outsourcing World Summit in Florida. Presented by The International Association of Outsourcing Professionals (IAOP), the event will officially kick-off on Monday, February 17-19 at Disney's Contemporary Resort in Lake Buena Vista, Florida. OWS is the biggest annual conference of outsourcing professionals. Top outsourcing experts and speakers from over 40 different countries will get together this year at the summit to share their company's experience in outsourcing to exchange ideas and leverage businesses.
iTexico's Extended Team as a Service (eTaaS) as well as extensive experience in web and mobile app development by nearshore experts located in Mexico are some of the important topics to be discussed along other outsourcing personalities for the event. Such capabilities are expected to grow substantially and leverage talent in Mexico to serve software product companies in USA in the B2B and B2C markets.
"As a web and mobile app company with delivery team located in Guadalajara, Mexico, we consider the Outsourcing World Summit to be a very important event to talk with entrepreneurs and outsourcing executives about our experiences in nearshoring services to Mexico. The numbers of attendants from the last year was impressive, so we are excited about what's coming this year." Abhijeet Pradhan - CTO of iTexico.
Recently, on January 23rd, iTexico attended the Immercio, the Nearshore Executive Alliance's Annual Conference, in Mexico to promote nearshore services as an alternative in the outsourcing universe, a different approach to provide a better solution. The success of the Immercio inspired the management team to assist to the OWS and take the most from it.
At the summit, companies will have the opportunity to dialog with active members in the industry with the biggest and longest running networking event and, of course, the most innovative IT service providers. It will be where they will also have an opportunity to learn how to develop strategic partnerships, discover the real value of outsourcing relationships, master innovation, what works, what doesn't, what's next and more.
"It's always a pleasure to meet these amazing folks, executives and entrepreneurs alike, who attend events such as this one. During these events, we're always learning about very talented people and how they're impacting the industry for the better, and we're always open to discuss different inquiries from anyone who approach us. We can't wait to be there and talk about all things mobile as well as nearshore." Anurag Kumar - CEO of iTexico.