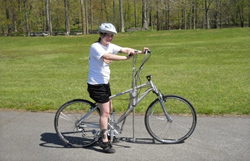 I was satisfied with bicycling for a good leg and cardio workout, but I wished riding could do more for my arms and upper body.
Congers, NY (PRWEB) February 25, 2014
Indian Trail Inc., a new bicycle manufacturer, introduces the FitRider™, a new type of bicycle that combines a seated, low-impact, lower body workout with an upper body workout.
The FitRider™ is targeted at individuals who want to get a more balanced workout than a conventional bike provides. It is also designed for those who currently use exercise equipment but don't want to be confined indoors. In addition, through the use of a training stand, the bike can be brought indoors during the colder months and used as an elliptical.
The concept for FitRider™ originated from bicycle enthusiast Bill Capek. He developed a prototype for his vision and patented the technology. "I was satisfied with bicycling for a good leg and cardio workout, but I wished riding could do more for my arms and upper body," said Capek. "I spent a lot of time riding and thinking about how this could be accomplished. With the help of a few friends I produced the first prototype to prove the concept. Shortly after that I produced a second prototype, which I've ridden over 5,000 miles to learn its strengths and where it could use improvement."
Capek then partnered with local manufacturer Indus Precision Manufacturing Inc., to produce the third round of prototypes and form Indian Trail Inc. Together, they developed the FitRider™ specifications and are now looking to start production.
The FitRider™ offers a low impact workout for the upper and lower body while maintaining the ease of riding a bike. The riding position is upright, with the neck and back in a natural relaxed position. The workload can be varied between the legs and arms, allowing them to rest as needed.
The FitRider™ has two power levers instead of handlebars. The levers allow the rider to use their arms as well as their legs to propel the bike. The levers are turned to steer. This patented application addresses the issue of steering while the levers are reciprocating. The problem is solved by lining up the pivot points of the lever with the pivot points of the steering linkage so that when the levers reciprocate, the steering is unaffected. Unlike some other products, there is no lag or gap between strokes that may cause stalling.
The design also allows the levers to be made stationary by using the anchoring point. The linkage is secured by a nut and a hairpin-type cotter pin. The changeover takes about a minute. The stationary position can be used when a beginner is learning to ride or when the rider's arms become fatigued.
A Kickstarter campaign will soon be launched, with early bird discounts and other special offers. Visit http://www.fitriderbike.com to see the bike in action and to contribute to the Kickstarter campaign.