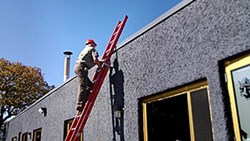 Novi, MI (PRWEB) February 17, 2014
Every year 300 people are killed and 165,000 are injured while using ladders. Though the use of ladders seem like a mindless job skill, once complacency shows up at work, so does the risk of injury, or worse, death. There is much more to working with ladders than climbing one, and Mastery Technologies supplies the training to prove that. The newly released course "Ladder Safety," originally produced by Aurora Pictures, addresses key safety steps to prevent accidents from taking place on the job.
With statistics demonstrating the importance of ladder safety, there are vital safety considerations and techniques workers must be familiar with to stay safe. Most people are injured and killed because of improper ladder use, mainly from using a ladder that is too short or one that cannot support the workload. Mastery's "Ladder Safety" helps improve safe work practices by covering topics such as:
•Inspecting ladders
•Setting up ladders
•Using extension ladders
•Transporting ladders
•Using step ladders
•Working on ladders
•Safety tips
Ladders add risk to any job being performed because of the height. Even falls from a seemingly short distance can lead to terrible injuries. Everyone wants to go home safely at the end of the day and in order to do so proper training and procedures must be enforced.
Not only is "Ladder Safety," a newly released course, it is available in Mastery's Advantage™ and Video On Demand (VOD) platforms. In the Advantage™ course, broadcast-quality production values are used along with frequent interactions, practice activities, and quizzes with reviews to ensure workers master 100% of the course's material. Mastery's VOD courses contain the entire instructional presentation of a training course. All of Mastery's VOD courses include a topical index, displayed on the side of the video when not in full-screen mode. Video On Demand titles play on all devices, including desktops, smart phones and tablets.
Both formats of this course are available at the affordable price of $19.95 per learner. Volume pricing is available for employer purchases. For more inquiries on this course or other Mastery course platforms, visit Mastery.com.
About Mastery Technologies Inc.
Mastery Technologies established the e-learning industry's first Training Content Network. Mastery partners with leading video content providers to co-produce the largest, standardized, workplace e-learning library available. Mastery goes beyond connecting customers with content, by pro-actively supporting both customers and content partners. In this way Mastery fulfills its mission of helping build more successful, effective and amazing organizations.