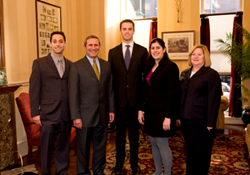 (PRWEB) February 19, 2014
Pozzuolo Rodden P.C., Philadelphia Business Law Attorneys, announces the release of "Revenge Porn- Is There Any Recourse? If you would like to read this and other business law topics please visit our web site at http://www.pozzuolo.com
Revenge Porn- Is There Any Recourse?
During the past few years this office has been contacted on more than a few occasions by parents of college and post college age daughter whose nude or semi-nude photographs have been posted on line by a former boyfriend. The parents were incensed and want to pursue any and all criminal and civil remedies against the former boyfriend.
In today's society where social media blurs the lines of personal privacy, more and more people are becoming the unwitting victims of revenge porn. Revenge porn is the term for the publishing of nude or semi-nude videos and/or photographs without the subject's permission. The typical scenario, which gave revenge porn its name, arose when a person in a relationship would share nude photographs of himself or herself with his or her partner, and that partner would post the pictures online after the relationship ended as a form of revenge. However, there are other types of non-consensual pornography, including victims whose emails and computers were hacked with private images stolen or even individuals who have had photographs of victims altered to appear nude, that can fall under the umbrella term revenge porn.
Currently, no federal criminal law exist to specifically provide protection to victims of revenge porn and California and New Jersey are the only two states with existing criminal statutes directly addressing revenge porn. In Pennsylvania, Senate Bill 1167 has been proposed to criminalize revenge porn. Accordingly, in most states, victims are forced to attempt to find redress under existing civil or criminal laws that were not specifically tailored to address revenge porn scenarios.
Victims of revenge porn have attempted to bring civil tort claims for intentional infliction of emotional distress and other torts, but often times this can be a challenging and costly option. One of the problems is that many internet sites that allow posting of revenge porn photographs and videos protect their members' identities so a victim may not even know who to name defendant in such claims. Furthermore, one of the main problems with a civil tort remedy is that it does not often apply to successor internet entities that actually republish the offending photographs, so often times even after the matter is concluded the offending photographs will have already been reposted on two or three other sites.
Pursuant to the federal law, under the Communications Decency Act ("CDA") internet publishers are often shielded from liability from content submitted by third-party users. This protects internet publishers from being liable for content posted in their user comments sections, and due to the broad protection offered by the CDA, internet sites publishing revenge porn photographs submitted by third parties are also shielded from liability.
Victims of revenge porn may also attempt to bring claims pursuant to copyright law. This is useful because internet publishers can be subject to liability for violations of copyright law and this could lead to the removal of the offending photograph from the internet. Copyright law allows a victim to send the internet publishers takedown notices or be at risk for copyright infringement. The largest limitation to copyright law is if the victim does not hold the copyright to the image at issue. Typically the photographer is found to be the owner of the copyright, but victims of revenge porn who were not the photographer can attempt to establish joint ownership of the copyright. However, it is unknown to what extent, if any, that courts will recognize such joint ownership.
In conclusion, if you have been the victim of revenge porn or are concerned about the effects of revenge porn in our society we strongly suggest you contact your federal and state representatives and request that they support laws criminalizing the posting of revenge porn.Please contact this office if you wish to further discuss these issues.
Contact our Philadelphia Family Law Firm with your questions, comments or concerns.
Pozzuolo Rodden, P.C. provides specialized cost-effective legal services to privately held business owners and high-net-worth clients in Pennsylvania and New Jersey in excess of 35 years.
Practice Areas: Business/Corporate Litigation | Business/Corporate Law | Real Estate | Employment Law | Estate Planning | Tax & Pension Law | Family Law/Litigation
Pozzuolo Rodden, P.C.
Counselors at Law
2033 Walnut Street
Philadelphia, PA 19103
215-977-8200
http://www.pozzuolo.com