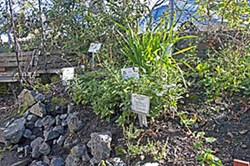 San Francisco, CA (PRWEB) February 17, 2014
The American College of Traditional Chinese Medicine (ACTCM) is proud to announce they have been selected by Whole Foods Potrero Hill to be one of the featured Nickels for Non Profit recipients, an initiative that gives shoppers who bring their own bag the option of receiving a 5¢ credit (per bag) or the option to donate the 5¢ to featured non-profit organizations.
The grant will support "Celebrating National Herb Week 2014 - ACTCM Herb Garden Community Outreach Project". Scheduled for the first week of May, ACTCM will begin offering public educational tours and programs on herbal medicine and nutrition.
The ACTCM herbal garden is one of the first of its kind and a living educational resource for both ACTCM and the general public, the garden is abundant with healing herbs from around the world. It contains more than 150 types of herbs and plants from China, Japan, Korea, Europe and both North and South America. New plants are continuously being added, and the landscape continues to change and adapt to the growing herbs. The garden is maintained solely by student volunteers and donations from the community.
The ACTCM Clinic also features its own full-service herbal pharmacy that carries an extensive selection of high-quality herbs and medicines in raw, powered, and pill form and features an herbal clinic to address patients' needs through specialized herbal prescriptions.
About the college:
Founded in 1980, ACTCM is one of the oldest Traditional Chinese Medicine colleges in the country and was the first in the nation to be approved to offer the Master's of Science degree in Traditional Chinese Medicine. ACTCM has been honored for its curriculum, faculty and acupuncture clinic, and voted "Best of the Bay" by both the San Francisco Weekly and the San Francisco Bay Guardian. The college has also been honored for its role in animal conservation and partnerships with the World Wildlife Fund (WWF) and the Save the Tiger Fund.