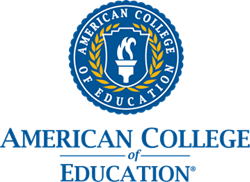 "We are proud to be the first online graduate school for educators that fulfills the promise of earning a quality, online degree on a real teacher's budget."
Indianapolis, IN (PRWEB) February 27, 2014
American College of Education, an online college offering advanced degree programs for working professionals, is pleased to announce that New Mexico now permits its state residents to participate in American College of Education programs. The college is registered with the New Mexico Higher Education department and now is authorized to operate in New Mexico.
"We are thrilled to have New Mexico join us in offering the highest quality programs to their educators at an affordable price so that everyone can progress in his or her career," said American College of Education Interim President Shawntel Landry. American College of Education has students from 45 other states and 22 countries enrolled in its programs.
"Our interactive courses offer many advanced programs for educators," said Landry. "American College of Education students have access to the top research tools and can collaborate with professors across the world. We continually evaluate our courses to ensure the work can be applied immediately to our students' professional settings."
Tuition for an American College of Education master's degree program is about $8,000. "We have many great things to offer New Mexico educators such as our high academic standards, innovative programs and efficiency in all of our approaches to education," commented Landry. "We are proud to be the first online graduate school for educators that fulfills the promise of earning a quality, online degree on a real teacher's budget."
New Mexico residents seeking advanced degrees or certificates in education can find additional information at http://www.ace.edu/campaigns/new-mexico.
About American College of Education
American College of Education delivers affordable, online graduate programs that provide evidence-based content and relevant experiences to improve educators' knowledge, skills and performance. http://www.ace.edu