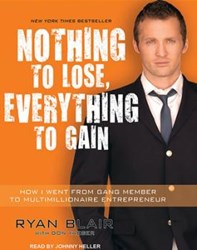 Ryan said, "People should work 80 hours a week focused on their art." CEO of Simply G Media GJ Reynolds agreed. "i suggest choosing a particular skill that you enjoy and are able to master and go for it," Reynolds said.
Los Angeles, CA (PRWEB) February 19, 2014
Neil Haley, The Total Tutor host of the BeachLifestyle Radio show, interviewed CEO of Visalus Ryan Blair to find out his experiences growing up in poverty and people who mentored him.
Blair was an entrepreneur at an early age. He had a paper route and was driven by compensation and growing as an entrepreneur. The skills he learned came from the streets, not school, he revealed in the interview.
Blair, who in 2005 co-founded Visalus Sciences, LLC. (now ViSalus, Inc.) and serves as its Chief Executive Officer, and is a Vice President of Blyth, Inc. He also co-founded PathConnect LLC (PathConnect Inc.) in 2004 and served as its Chairman of the Board and Chief Executive Officer. He served as Chief Executive Officer of SkyPipeline Inc. and founded 24x7 Tech in October 1999. As Vice President of Business Development, he headed the strategic planning and sales functions of 24x7 Tech from 1999 to 2001. He's held key management positions with Logix Development Corporation and led Logix's Technology Development and Operations Divisions.
His background and technical expertise has been featured in several online publications such as TNBT.com (The Next Big Thing), Acadio.com, Microsoft.com, and IT Support News. He served as a Director of ViSalus, Inc. and a Director of FVA Ventures, Inc. From 1996 to 1999, Blair served as Manager, Market Research, at Logix Development Corporation, an integrated communications company. He was a guest lecturer speaker at Pepperdine University's Graziadio School of Business, where he lectured on business strategy to the graduating MBA class. In the media, he is an often-profiled entrepreneur and passionate philanthropist. He has appeared on several national television shows and has conducted more than 400 keynote speeches to nearly 1,000,000 audience members at leading Fortune 500 corporations, conferences, and universities such as Pepperdine and MIT. An accomplished writer, he has been published and featured in over 30 national publications such as Young Money Magazine, MSNBC.com and Forbes. He was a distinguished guest on the USS Nimitz during the Iraq war and has authored a number of technical articles and white papers.
Ryan shared on the BeachLifestyle Radio Show that he had a learning disability and was never able to pass an English class. He was placed in remedial education and felt like he learned very little in school.
"My academic strength was ignored," said Blair, who doesn't remember reading books when he was a kid because of his disability. He learned other skills in other ways, particularly through his auditory recall. "My academic strengths were ignored. The school system failed to tap into them." Blair hopes the education system changes and takes luck out of the system and focuses on kids' strengths. When it doesn't, it creates a big problem," he said.
Ryan also shared, "There is not only one-way of learning."
In the interview, Blair explains that he likes to figure out the mathematical equation in life, create a great company, be a good student and be a good teacher. "I like to figure out the exact process and reverse engineer the process to become a successful writer."
His dad dealt drugs growing up. His life would have not changed if he did not meet his mentor. "I would have ended up in jail."
"Any successful person has a mentor," Blair said. His book is a tribute to his stepfather and his mother.
Blair said he believes curiosity, a desire to solve problems, and an embrace of failure leads to success, not one single element. He loves thinking about his business. He thinks 24 hours, 7 days week.
Blair learned thorough research that you need to work 10,000 hours to become an expert. Ryan said, "People should work 80 hours a week focused on their art." CEO of Simply G Media GJ Reynolds agreed. "i suggest choosing a particular skill that you enjoy and are able to master and go for it," Reynolds said.
"Stay the course with it. Ryan is a success story, most children who grow up in a difficult environment will never succeed unless they have a mentor. Ryan has been able to do this and continues to seek out mentorship. He lives what he teaches and is a great example"
Ryan continued to discuss how he has been able to be successful as an entrepreneur on the Beachlifetstyle Radio Show.
You are able to find out more information on Ryan Blair by going to http://ryanblair.com/. You are also able listen to the interview by going to http://www.simplygmedia.com.