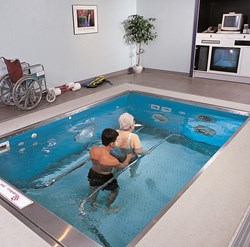 Middletown, PA (PRWEB) February 18, 2014
Since ancient times, water has been revered for its healing properties. As cultures built their towns and communities along rivers, streams, oceans and natural springs, they came to discover the pleasurable and medicinal aspects of having easy access to an aquatic environment. Early physicians and healers prescribed the relaxing, bathing or exercising in both warm and cold waters as a cure for everything from depression to arthritis. Piggybacking on what they realized – that water, combined with advanced technology, could help ease or cure a variety of ailments – Dr. Paul Hetrick, a well-regarded chiropractor, invented the HydroWorx therapy pool.
Dr. Hetrick's goal was to provide a convenient means of enabling physical therapists, occupational therapists and athletic trainers to work with their patients and clients in a water-based atmosphere. By equipping his therapy pools with an embedded underwater treadmill floor, as well as resistance jets that double as massage hose conduits, he opened the door for individuals around the world to be able to recover faster and more effectively. Perhaps most interestingly, Hetrick and his team discovered that the HydroWorx could be used by almost every population, making it one of the few rehabilitative modalities ideal for people of any age, size, or physical limitation.
On Thursday, February 20, 2014, from 5:00-6:00 p.m. EST, Dr. Hetrick will share his findings via a live, streaming webcast from the HydroWorx therapy pool at his Pennsylvania facility, the Hetrick Center. His webcast, "The One Modality for All Patient Populations – Why Water Worx," is free to attend but requires pre-registration at http://ww2.hydroworx.com/webcast-dr-hetrick.
During "The One Modality for All Patient Populations – Why Water Worx," Dr. Hetrick will cover topics including:

The science behind the reasons water is a viable means for the therapy or exercise of almost any patient population.
How water therapy has been shown to prove patients with earlier and more advanced outcomes than land-based therapy alone.
How to seamlessly bridge the gaps between land-based and water therapies.
Information regarding clinical cases and studies where aquatic therapy was used in lieu of or in addition to land-based therapies.
The webcast is ideal for professionals working with patients or athletes, or for those who are interested in learning more about therapy pools and progressions.
About the Presenter
Dr. Paul Hetrick, President of The Hetrick Center, is an international lecturer on chiropractic rehabilitation and aquatic therapy. As the inventor of HydroWorx pools, as well as Chairman of the Board of HydroWorx International, he is passionate about using water therapy to help all populations make gains. He is an Advisory Board member for the PTA program at Central Penn College, and a Past President, Chairman of the Board, Treasurer and Board member for the Pennsylvania Chiropractic Association. Dr. Hetrick was named the Chiropractor of the Year in 1991 for the Pennsylvania Chiropractic Association. He has instructed at Palmer College of Chiropractic, Life University and Cleveland Chiropractic Colleges.
About HydroWorx
HydroWorx, based in Middletown, Pennsylvania, offers a wide range of underwater treadmill therapy pools, and peripheral products and services. Every day, more than 23,000 athletes and patients use HydroWorx technology to recover from injuries and health conditions.
More information about HydroWorx's upcoming webinars, as well as archived webcasts from previous events, can be found by visiting http://www.hydroworx.com/research-education/video-library/details.aspx?id=151&categoryId=23.
# # #