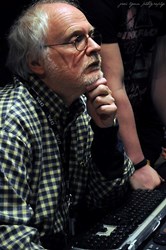 Audio is all about breaking rules, and that's how we encourage students here. The other main philosophy is, you can't break a rule if you don't know it exists, so we teach the rules, and then you go ahead. And sonically, there is no limit. - Kevin Herring
(PRWEB) February 18, 2014
Kevin Herring, head of the Audio Engineering Department at the Fredericton campus of Centre for Arts and Technology, was recently accepted into CARAS (the Canadian Academy of Recording Arts & Sciences), where he's eligible to vote in all categories of the JUNO Awards. Coupled with his five-year membership in the National Academy of Recording Arts and Sciences - the organization which oversees the Grammy Awards - Herring now holds the rare distinction of nominating and voting for artists across all categories of the continent's two most respected music industry awards. Rest assured, it's a position he doesn't take lightly. "If the right people aren't given the right push at the right time in their career, then the A&R people take over, and we just hear the same thing over and over and over," Herring said. "So I'm looking for something that's pushing the envelope, pushing the genre, or maybe even creating a new one."
The acceptance into CARAS is just the latest feather in a career well coloured with accomplishment and innovation. And while he might be on the hunt for the latest game-changers today, 20 years ago, it was him. Herring was the first audio engineer in the world to record an album on hard disc. His peers in the industry were still fixed on tape recordings, but Herring was the first to do it all "inside the box." "What people do everyday, with Logic or Ableton Live or Pro Tools, I was the one in 1993 who said it can be done, it should be done, and this is how you do it," Herring said.
The ground-breaking project - recording two live orchestral concerts in central London - was later documented in an issue of the UK-based magazine Studio Sound. And as if the stakes weren't high enough for Herring, he was tasked with convincing George Martin - the legendary producer for The Beatles and engineer of the British Invasion - to partner on the project. "It was terrifying, I was convincing the most successful producer in the history of music to ride along with me," Herring recalled. "But he's been an innovator forever, so I told him that, yes, this could be done, and two, I'm the one whose able to do it, and three, it was a chance for him to be an innovator yet again." Martin signed on, and Herring would go on to record three more projects with the iconic producer. Within months of word getting out on the hard disc recording, major industry players, such as The BBC, were following in Herring's footsteps.
Now as the Department Head for Audio Engineering at The Centre for Arts and Technology in Fredericton, Herring is doing his part to inspire the next great innovator. "Audio is all about breaking the rules, and that's how we encourage students here," Herring said. "The other main philosophy is, you can't break a rule if you don't know it exists, so we teach the rules, and then you go ahead. And sonically, there is no limit."
Centre for Arts and Technology (digitalartschool.com) is a digital media based post-secondary institute with three campuses across Canada in Fredericton, Halifax, and Kelowna. The digital art college's programs include Audio Engineering & Production, Studio Production and Electronic Music Production, among other emerging arts, entertainment and information technology careers.