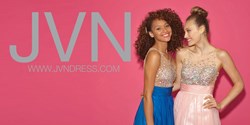 The JVN collection is definitely a top contender in the prom dress market. -David Wilkenfeld, Promgril.com CEO
New York, NY (PRWEB) February 18, 2014
Believe it or not, prom season is in full swing. From the dress to the date, high schoolers across the country are getting ready for one of the biggest and most memorable nights of their high school careers. Achieving the perfect prom look tops most young women's prom checklist, and the popular evening wear brand Jovani, who is known for its breathtaking prom designs, is making their product even more accessible to high schoolers at any budget with their newest prom line, JVN.
JVN is the newest collection from the New York-based fashion house that offers an affordable selection of prom dresses. Retailing under $400, JVN gives girls the glamour and quality that Jovani is know for at a price point that won't break the bank.
While Jovani's prom line ranges from $400 to over $900, "there is a large market of high school girls that cannot afford these fabulous styles," said Jovani CEO, Abraham Maslavi. "JVN is giving girls across the nation a chance to feel glamorous on prom night at a price they can afford."
Although the new prom line is at a lower price point, Jovani guarantees the same quality that makes their dresses stand above the rest. The new brand, which is hosted on its own website, JVNDress.com, is available through select retailers that include Dillard's department stores and is sold online exclusively at Promgirl.com.
With the newest partnership between Promgirl.com and JVN, this amazing collection is bound to make a splash this season. "From the moment the collection debuted on Promgirl.com, it was an instant hit with our customers," said Promgirl.com CEO, David Wilkenfeld. "The exclusive collection shines with its intricate beading, rich fabrics and signature Jovani style all at an amazing price point."
The JVN line incompasses a wide variety of styles that work for any and every prom girl. From fashion-forward to classic ball gowns, the collection goes beyond the basics, making sure that every girl makes a lasting impression on her prom night.
"The JVN collection is definitely a top contender in the prom dress market," said Wilkenfeld. "It offers impeccable fit and styling, which makes it an easy choice for girls of all shapes and sizes."
This collection stands out amongst a vast sea of dresses with its amazing quality and affordable price point. With the design team creating affordable new styles, fits and silhouettes, and Promgirl.com's worldwide market girls all over the globe can wear JVN.