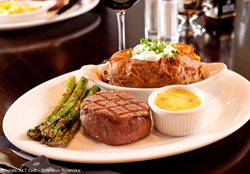 Shula's 347 Grill will host Cheers for Charities on February 20th.
Roanoke, VA (PRWEB) February 18, 2014
Shula's 347 Grill, located inside the Sheraton Roanoke Hotel & Conference Center, looks forward to welcoming community friends and businesses on February 20th in support of Cheers for Charities. This month's event will benefit the Ronald McDonald House Charities of Southwest Virginia. Cheers for Charities was founded by K92 and the Women Business Owners Network to give back to the charities in the Roanoke Valley and to spread awareness of the non-profit efforts in the community and beyond.
Shula's 347 Grill invites the community to join this wonderful cause on Thursday, February 20th, from 5:30pm – 7:30pm. Raffle prizes, food specials and networking will be available.
Shula's 347 Grill is the only one of its kind in southwest Virginia, offering affordable dining in an elegantly casual atmosphere. With convenient highway access and free parking, it's the perfect spot for a business lunch, after-work get-together or weekend celebration. The restaurant is located at the Sheraton Roanoke Hotel & Conference Center. To learn more, please visit http://www.shulas347roanoke.com.