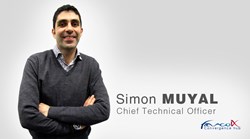 Paris, France (PRWEB UK) 18 February 2014
Before joining France-IX, Simon Muyal was the Network Services Manager at RENATER where he was employed for 10 years at various positions. As the Network Services Manager, he piloted the engineering, deployment and support of IP services, the telephony over IP and the videoconferencing but also managed the IXP SFINX.
At France-IX, Simon Muyal is now in charge of developing new added-value services to the community including over 230 peers. He is also responsible for the upgrade of the network to welcome the 100G ports technology.
"Peering has greatly evolved over the past few years and France has stepped up to become one of the most appealing peering places. I'm glad to join the great team of France-IX and to bring my competencies to further develop the value of peering to our international peers." concludes Simon Muyal.
About France-IX
France-IX is the international internet exchange based in France, offering IPv4 & IPv6 public and private peering to internet services providers, content delivery networks and other types of internet networks.
By interconnecting several hundreds of members located all around the world, France-IX brings solutions to enhance the quality of the traffic exchanged by its members and thus improving the quality of surfing experienced by the web users.
Founded in June 2010 with the support of the French operators community, France-IX is an association to which neutrality, sustainability and constant improvement of the peering services are core values.
For more information, please visit the website https://www.franceix.net or contact info(at)franceix(dot)net.