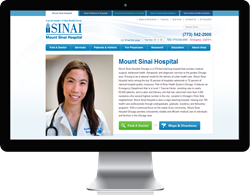 When so much is relying on your website, routine check-ups and small procedures are the fastest way to strong, secure business.
Chicago, IL (PRWEB) February 18, 2014
Sometimes hospital websites need some minor operations to improve their overall digital health. Mt. Sinai Hospital is rated as one of the top 10% of hospitals, nationwide. Their Drupal website reflects their brand - it needs to be of the highest integrity. Mt. Sinai Hospital turned to Promet for Drupal Consulting for a fast, cost-efficient solution.
Promet Source gave Mt. Sinai a Site Assessment to evaluate the site's architecture, specifications, configuration, operations and management processes. From there, the Promet team made a thorough diagnosis and recommendations for improvement. Promet's Drupal consultants advised making a series of multiple changes to their current site - saving Sinai the time and money of doing a complete rebuild. Additionally, Mt. Sinai had digital enhancement needs to support marketing efforts including an improved "Find-A-Doctor" functionality. The Promet Drupal consultants were able to scope marketing and technical needs to deliver a refresh of the Mt. Sinai site in less than four months.
The expert Drupal developers at Promet were able to successfully strengthen and improve the site's structure and custom modules. With code integrity in place, Mt. Sinai has a site prepared for future development and growth. The overall site now performs optimally; site administrators can make updates to the site efficiently. For example, the services section (which highlights the hospital's specialties) was difficult to maintain and/or edit; now content editors have new imports and fields that allow for faster changes. With easier editing in place, the services section is up-to-date with the hospital's current specialties and terminologies.
While many backend improvements were made that improved the site's speed, security, maintainability and functionality, Promet Source also gave Mt. Sinai solutions for user interface. Mt. Sinai's Marketing team recognized a need for a more usable "Find-A-Doctor" feature. Promet Source provided this feature with a larger search criteria and the ability to search by proximity. The site is now connected to a Google API which allows site users to search for doctors within 25 miles of their location. The layout of this function is more user-friendly and intuitive. The administrative management of the "Find-A-Doctor" database is now streamlined for the Mt. Sinai staff. Promet provided a simpler CSV file import which allows the entire Sinai organization to access doctor information.
Other small changes include updated aesthetics of various tabs to match the overall branding, improved doctor profile pages, the implementation of a rotating banner on the homepage and overall visual enhancements for better UI/UX. These small changes gives the site cohesive branding and better navigation. Throughout the process, all code was delivered with best practices to ensure the site can be maintained and supported into the future.
"Mt. Sinai is an excellent example of how a lot of small changes and updates can really improve a site. It's Promet's passion to ensure integrity for a long-lasting product that can be easily used by site administrators and the public alike. When so much is relying on your website, routine check-ups and small procedures are the fastest way to strong, secure business." - Jenna Colbaugh, Project Manager, Promet Source.
About Promet Source: Founded in 2003, Promet Source is a leading interactive development firm that implements open source tools (specifically Drupal) to deliver high-value web and mobile application development & support. Promet offers a turn-key solution delivered by experts in the field: sprint 0 planning (Agile concept development), design, architecture, development and deployment. After deployment, Promet provides ongoing support & maintenance. Our consultants have deep technical expertise and are recognized as leaders within the Drupal community. Promet serves clients globally across multiple industries-specializing in government, higher education, non-profits, start-ups, healthcare and professional services.