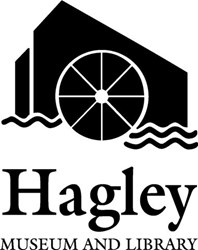 Wilmington, DE (PRWEB) February 18, 2014
More than 2,000 Irish immigrants relocated to northern Delaware from 1802 and 1902. Many found work in the black powder yards at what is today's Hagley Museum and Library. Learn more about their experiences at Hagley's Author Talk, "Black Powder, White Lace: The Irish Community at Hagley," presented by Margaret Mulrooney on Thursday, March 27, at 7 p.m. in Hagley's Soda House auditorium. Admission is free. Reservations are requested; call (302) 658-2400, ext. 243, or email clockman(at)hagley(dot)org. Use Hagley's Buck Road East entrance off Route 100 in Wilmington, Delaware.
Dr. Mulrooney will tell the story of the Irish immigrants and their descendants who lived and worked along the banks of the Brandywine Creek, many employed at the DuPont Company's powder yards. Explosives work was dangerous, but the du Ponts provided many benefits, including assisted migration, free or low-cost housing, interest-bearing savings accounts, and widows' pensions. As a result, the Irish remained loyal to their employers, convinced by their everyday experiences that their interests and the du Ponts' were the same. Learn about their vibrant, close-knit community that differed in important ways from popular portrayals of the Irish experience in America.
Mulrooney's talk will draw on material in the archives of the Hagley library, including oral interviews with many who lived in the Irish communities along the Brandywine.
About Margaret Mulrooney
Margaret M. (Meg) Mulrooney first visited Hagley Museum on an elementary school field trip—just like many other native Delawareans. A graduate of Padua Academy, she received her B.A. from the University of Delaware and her Ph.D. from the College of William and Mary. She presently serves as Associate Vice Provost for University Programs at James Madison University and teaches regularly in the History Department. Her talk is based on Mulrooney's book, Black Powder, White Lace: The du Pont Irish and Cultural Identity in Nineteenth Century America (2002). She is currently completing a new manuscript called "Deep Currents: Race, Place, and Memory in Wilmington, NC."
About Hagley Museum and Library
At Hagley, we invite people of all ages to investigate and experience the unfolding history of American business, technology, and innovation, and its impact on the world, from our home at the historic DuPont powder yards on the banks of the Brandywine.
For more information, call (302) 658-2400 weekdays or visit http://www.hagley.org.
###