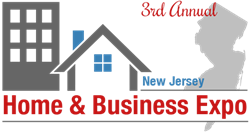 A lot of thought and planning has gone into this expo; we wanted to create an experience for both vendors and attendees.
Freehold, NJ (PRWEB) February 18, 2014
The 3rd Annual New Jersey Home & Business Expo sponsored by Bella Vista Country Club will take place from 11:00 a.m. – 6:00 p.m. on Sunday, April 6, 2014 at the Encore Events Center inside iPlay America located at 110 Schanck Rd in Freehold, NJ.
The expo, co-sponsored by iPlay America, Ray Catena Lexus and Athletes & Business Alliance (ABA), will showcase the best home and business products and services from Monmouth, Ocean, Middlesex counties and outlying communities.
Previously, the New Jersey Home & Business Expo was held at Bella Vista Country Club, however, due to overwhelming success and an increase in participating exhibitors and public attendance last year, Encore Event Center has been selected to accommodate the growing number of exhibitors and attendees. In addition, Synergy Event Planners has been brought on to handle event production.
"I believe this year's expo will be our biggest yet. We have implemented a full marketing and public relations campaign which includes a Cablevision campaign," said Anthony Beshara, tradeshow organizer. "Commercials will be running on major Cablevision channels promoting exhibitor spaces as well as public awareness to for maximum participation."
High profile sports figures, Nick Fotiu, Joe Klecko, Dan Klecko and Fred Baxter, will be on hand to interact with vendors, fans and attendees. This was made possible by Peter Grandich, President of ABA.
Expo highlights include raffle drawings available to all attendees on behalf of the participating exhibitors. Ray Catena Lexus is giving away a 24 month lease on a 2014 Lexus. Home Entertainment Systems will be raffling off a 50" HDTV and Bella Vista Country Club will be giving away a free country club membership.
There will also be hundreds of exhibitor giveaways and prizes. Attendees must be present to win these prizes.
"I cannot think of another home and business expo that has Superbowl Champions and gives away a free Lexus at the end of the event," continues Beshara. "A lot of thought and planning has gone into this event; we wanted to create an experience for both vendors and attendees."
Admission to the New Jersey Home & Business Expo is free of charge. For more information and to book your vendor package please visit http://www.bellavistaccevents.com. For event information contact Anthony Beshara 732-616-7300 or John Bruzzese, Synergy Event Planners, 848-667-1378. For the latest news and updates and to join the conversation, find the NJ Home and Business Expo on Twitter @BellaVistaCC and on the Facebook event page.
Media Inquiries:
Deirdre Lopian
Deirdre Lopian Public Relations, LLC
Office: 732-577-8287 Cell: 609-553-4023