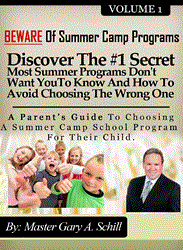 Top 10 Secrets Every Parent Should Know Before Enrolling their Child in Summer Camps
Cedar Park, TX (PRWEB) February 18, 2014
Peak Performance Martial Arts owner Master Gary A. Schill has owned and operated Summer Camps for nearly 25 years. During these 25 years Master Schill has seen a massive change in the summer environments children are exposed to.
In this 10 part series, Master Schill will outline the top 10 questions that every parents should know, ask and research before enrolling their child in a summer camp.
In this series, we are going to speak about the people children will be spending their time with. Since most parents that enroll their children in summer camp have jobs, they have to be at work early in the morning and do not get off until 5-6 p.m. at night.
The average child spends 9-10 hours a day with their summer camp/day care provider. So the first of ten tips is, who is your child spending their time with? In most states back ground checks are required. One of the questions that every parent should ask their provider is, "are background checks done on all of the staff and any vendors that frequent their facility.
As a "Sports Camp" provider, Master Schill outlines that most skills camps do not fall under the same jurisdiction as full day camps or day cares. They are not required to perform these background checks or finger printing to ensure the staff members are without criminal or violent back grounds.
There are some laws in Texas that make back ground checks more available for people making $75,000 a year or more. Why should this raise an alarm? Most people seeking jobs with day cares and summer camps make less than $75,000 per year. In addition, if someone makes less than the $75K, there is a 7 year limitation on arrest and convictions.
In Master Schill's Book "Warning, Beware of Summer Camp Programs, The Top 10 Things Summer Camp Programs do not Want You to Know", Master Schill outlines for parents the correct questions to ask your summer camp and After School Provider to ensure your child is in a healthy and safe environment. Once enrolled, make sure and ask children how their day was, what did the staff do with them that day? The good news is, the statistics are low that anything would happen, however, Master Schill feels that any child abused or neglected is one to many.
Master Schill continues with also trusting your gut. If something raises the hair on the back of your neck or puts a pit in your stomach, then you have to listen to it.
Master Gary A. Schill is a leading authority on Child and Family development. For more than 39 years he has studied the Martial Arts. As the owner and chief instructor of Peak Performance Martial Arts, Master Schill runs one of the most successful Summer Camp and After School Programs in the country. In addition, Master Schill is a 3 time best-selling author, his latest book "The Success Secret" was co-authored with Jack Canfield (Chicken Soup for the Soul co-author). Master Schill's has been featured on all of the major networks, ABC, NBC, CBS and FOX, as well as The USA Today.
For additional information, please feel free to visit http://www.SummerCamp14.com for more summer camp and after school tips and tricks to raising happy healthy children.