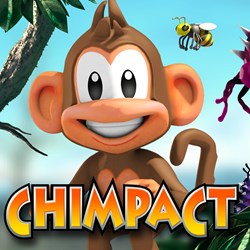 (PRWEB) February 19, 2014
What happens when a young chimpanzee named Chuck dashes and flies through a dangerous forest in search of food and gems? The answer is hours of fun with the interactive and addictive game Chimpact by Yippee! Entertainment.
Featured on Intel® Atom™ tablets for Windows* 8.1, Chimpact is a beautifully crafted, action-filled game. Through a one touch interactive control, players influence Chuck and other chimp characters who jump, swing and sail through beautiful forests in search of bananas, gems and medallions. The small monkeys must look out for spiders, yellow jackets and other critters that try to steal collected bananas, as well as avoid falling through the forest canopy.
Yippee! Entertainment's developers were able to optimize this exciting game for the unique capabilities of Intel Atom tablets for Windows* 8.1 due to their status as an Intel® Software Partner in the Intel® Developer Zone. The company's developers accessed Intel tools, code and support, which helped them create a better game for the powerful capabilities of Intel Atom tablets for Windows* 8.1. Plus, Yippee! Entertainment received insight and support from the developer communities in the Intel Developer Zone.
"The Intel Developer Zone provided us with essential building blocks that helped us make a rich, dynamic game that is both entertaining and challenging," said Stephen Ruddy, Technical Director at Yippee! Entertainment.
New Windows* 8.1 tablets provide a fun platform to play Chimpact and other games. The combination of Intel® Atom™ processors, high-resolution display and touch controls combine to provide a exciting, visually rich and interactive medium for games.
"Tablets with touch controls offer an innovative and immersive new experience for playing games," Ruddy noted. "We've designed Chimpact to engage and entertain players of all ages."
Due to the development support from the Intel Developer Zone and capabilities of new Windows* 8.1 tablets, Yippee! Entertainment is looking into further opportunities to create new apps.
Yippee! Entertainment is a digital entertainment company focused on creating mass-market intellectual properties rooted in casual and social video gaming. For more information visit: http://www.yippee-entertainment.com
The Intel Developer Zone supports independent developers and software companies of all sizes and skill levels with technical communities, go-to-market resources and business opportunities. To learn more about becoming an Intel Software Partner, join the Intel Developer Zone. To learn more visit: http://software.intel.com/
Intel, the Intel logo and Intel Inside are trademarks of Intel Corporation in the U.S. and/or other countries.
*Other names and brands may be claimed as the property of others.
Copyright © 2014 Intel Corporation. All rights reserved.