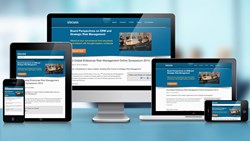 I was able to apply a lot of the material to our business and the input from other participants was very beneficial.
Newark, DE (PRWEB) February 19, 2014
The online, collaborative, learning environment of the symposium provides organizations with a cost-efficient and carbon-neutral opportunity to share best practice and benefit from peer-to-peer learning from some of the world's best risk management leaders. Last year, this innovative event attracted participants from 27 countries in six different continents and signifies the future of corporate learning environments.
Organised by SISCUSS, the online collaborative learning environment powered by TCQ Triangle LLC, this year's major topics include: ERM Frameworks, Risk Culture Building, Reputational Risk, ERM Maturity Models, Change Management and Board Perspectives. Key features of the symposium include on-demand keynote presentations, stimulating question and answer forums, live video-panel discussions and brainstorming sessions with industry experts.
SISCUSS Symposium Director, Jinobi Narain says: "With technical developments, constant innovation, and the adoption of the latest video technology, we are able to provide a highly effective learning platform to participants.
Through 10 years of research in the corporate learning domain and the learning technologies field, and by using both synchronous and asynchronous methodologies, we can ensure participants receive a higher standard of learning than they would by attending a live symposium."
Last year's international online symposium was a huge success as it was a convenient alternative for busy executives who were unable to travel to a traditional live conference. According to Teresa Jover from Fusion for Energy in Spain: "It was great to have the opportunity to share best practice and share such an amount of information without having to block out one week in my agenda."
Anton Janssen in North Carolina who works for Parata Systems LLC says: "I found interactive topics to be a great way to learn. I was able to apply a lot of the material to our business and the input from other participants was very beneficial."
ERM provides a framework for Risk Management and involves managing risks and seizing opportunities related to the achievement of an organization's objectives.