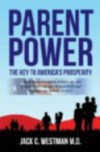 Unpaid parenthood is more important to America's prosperity than paid jobs.
Madiison, Wisconsin (PRWEB) February 19, 2014
The theme of Dr. Jack Westman's book Parent Power: The Key to America's Prosperity is that the unpaid career of parenthood is more important to the health of our economy than paid jobs.
The crucial importance of parents was confirmed by a comprehensive Danish Study using the Danish Psychiatric Central Research Register. The study found that the offspring of younger and older parents were at increased risk of psychiatric disorders compared with those of parents aged 25 to 29 years. When the offspring were examined for particular disorders, the nature of the relationship changed. The offspring of older fathers were at an increased risk of schizophrenia and related disorders, mental retardation and autism spectrum disorders. In contrast, the offspring of young mothers (and to a lesser extent young fathers) were at an increased risk for substance use disorders, attention deficit disorders, and mental retardation.
In the United States many parents are diverted from child rearing to paid employment either by choice or by necessity in welfare-to-work programs. In fact, competent parents contribute $1.4 million to our economy for each of their children who becomes a productive worker. Incompetent parents cost our economy $2.8 million for each child they damage by neglect and/or abuse.
Surveys of parents who are at home with their young children reveal that they feel the disparagement of parenthood. The term "working women and men" refers to people who are employed away from home and implies that homemaking is not work or is less important than paid work.
In the United States, child care is regarded as a marketable educational function rather than as a fulfilling developmental experience for adults and children as it is in other Western nations that support parenthood through paid family leaves and other benefits.
Most importantly, society doesn't formally acknowledge that child rearing is skilled, hands-on work in which parents and children bond and grow together. It automatically awards full parental rights to any genetic parent regardless of age or ability until the child is damaged by the parent's neglect or abuse and parental rights are terminated by a court.
Nonetheless, parenthood is a lifelong career. For most parents, parenthood is just as important as a paid career if not more so. This is especially evident during a parent's later years.
In order to stimulate discussion and action on these topics, this book's web site contains a blog devoted to forming an organization, such as an American Association of Parents, following the lead of AARP with the purpose of providing a voice for parents who are devoted to furthering their interests in our nation.