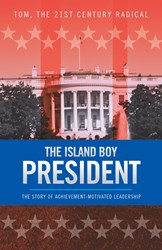 Tampa, FL (PRWEB) February 17, 2014
Today is Presidents Day- falling on the third Monday of the month, this day commemorates the great leaders of the United States. Author Thomas Darby's new fiction book features a brand new president- one that changes the course of American history forever.
Darby's "The Island Boy President" is a political-fiction novel that suggests real solutions to the issues our governments face. Readers follow president Paul Harvey Collins as he reveals his life story to a presidential biographer.
"The most important part of the book is Paul Harvey Collins' years as president of the United States," Darby said. "He supports individual freedom and ensures all people and nations that they can have their freedom."
As president Collins shows readers how he achieved his motto, "peace and prosperity for all," readers gain insight into the education system, law-making and individual freedom.
Darby, a self-proclaimed 21st century radical, urges readers to take more of a vested interest in the government and support the proposed changes that provide more efficient and effective government methods.
"The Island Boy President"
By Thomas Darby
ISBN: 978-4907-1889-7
Available on Amazon, Barnes & Noble and Trafford online bookstores
About the Author
Thomas Darby holds a bachelor's degree in chemistry from The Citadel, a master's in pharmacology and doctorate of philosophy from Medical University of South Carolina. He is a former associate dean for academic affairs and has authored three other books. He currently resides in Tampa, Fla., where he is a distinguished professor emeritus at the University of South Carolina School of Medicine.