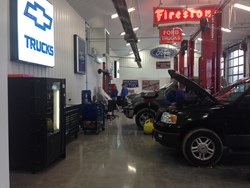 Millsboro, Delaware (PRWEB) February 18, 2014
The new facility at Millsboro Auto Mart just recently opened for customers. The new facility is state of the art, and makes customers feel like they are in a museum of car history. Millsboro Auto Mart accommodates more than 120 pre-owned vehicles on the lot and now has 5 brand new service bays to help serve their customers. Millsboro was successfully operating for 15 years before the owner David Wilson Sr. decided to tear down the old facility and build a brand new one. The return of service at Millsboro Automart is a huge deal. They have had a service department before and the return of it is bringing excitement to the Millsboro area. The service department will help Preston Automotive Group better serve customers all along Delmarva. The service department at Millsboro will be open Monday thru Saturday. The hours on Monday thru Friday are 8:00 a.m until 5:30 p.m, and on Saturday the hours are 8:00 a.m until 1:00 p.m.
Throughout the year it is extremely important for vehicles to get serviced. There are many benefits to bringing a vehicle into Millsboro Automart to get serviced. Getting a vehicle serviced can help expand its lifespan. A simple task like an oil change can help the engine run more efficiently therefore prolonging its lifespan. Getting a vehicle serviced also allows the owner to have peace of mind. They can be certain that the vehicle is safe to drive. Manufacturers have a right to void a customer's new car warranty if service is neglected to an unreasonable extent. Getting a vehicle serviced also helps reduce the long term costs of a vehicle. These are just a few of the benefits to getting a vehicle serviced often, though there are many more benefits not addressed.
Not only has Millsboro Automart added new service bays, but they have also added Preston For Life. Preston For Life is currently being offered at every location within Preston Automotive Group. It is a great program which greatly benefits customers. At any of their locations, if a customer purchases a new or pre-owned vehicle then they are automatically enrolled in Preston For Life at no charge. When enrolled the following items come at no charge to the customer; engine guarantee, tire rotation, multi-point inspection and the rewards card program. The Gold Rewards Card cost nothing and includes limited engine guarantee, mutli-point inspections, tire rotations, pre-vacation check-up and free auto body shop estimates! Also with this reward card the 1st oil change is complimentary, there is a 5% discount on accessories, $250 future trade in bonus, shuttle service, all of the pre-owned vehicles include 2 sets of keys, and customers will be the first to know of Preston Promotions and Events. There is also the option of being a Platinum Rewards Card Member. This includes all the benefits of the Gold card plus an abundance of extras for $795. Benefits include lifetime oil changes, loaner vehicle, towing coverage, vehicle detail once per year, %10 discount on accessories, $500 future trade in bonus and the customer can earn double bonus points for each dollar spent in any of our service departments.
About Preston Automotive Group
Preston Automotive Group services the Delaware, Maryland, Virginia and Pennsylvania areas with Ford, Lincoln, Mazda, Hyundai, and Nissan brands. The auto group carries the largest selection of new and used cars and trucks. Additionally, the dealership services all makes and models, both imported and domestic cars with ASE certified and factory trained technicians. To further serve your automotive needs the Preston Automotive Group is also home to 3 auto body shops conveniently located around Delmarva in Preston, Cambridge, and the newest facility in Snow Hill, Maryland.
Millsboro Automart has been a part of the Preston Automotive Group family of dealerships since 1987. Serving Millsboro and the surrounding Delaware areas with the largest selection of quality pre-owned cars, trucks, and SUVs. Delaware Used car dealer, Millsboro Automart now has the ability to sell and maintain your vehicle with the new facility. Whether you need an oil change or parts for your vehicle, Millsboro is your #1 stop.