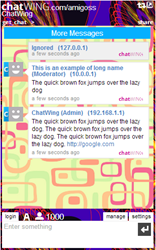 Boston, MA (PRWEB) February 17, 2014
Chatwing's features are not accessible at first as they need to be purchased first. To purchase these functions, the user will need Chatwing coins on their accounts. These in turn are loaded up from real life currencies (ex. US dollars, etc.) Once purchased, the user can start using them to compliment the chatbox.
The premium features are mostly used to increase the chatroom's marketing capabilities. A premium function will enable the user to explicitly advertise his products by replacing the Chatwing chat app logo with his brand or company logo. Another will do it the same way but through the use of a HTML link.
Other features would make your chat room simpler by removing all the Chatwing credits or more secure by enable the SSL function. The social media sharing feature allows the user to share the chat room software to other social networking sites. It's a premium feature that can also be used freely, hence a freemium feature.
The makers of Chatwing are doing their best efforts to continue the advancements of this chatting tool. Improvements are being done and for the continued satisfaction of its users, fixing any bugs and glitches of the system are also being called out. Another reason for this is that since it is already available on Android, it is expected that there will be more people subscribing to Chatwing this year.