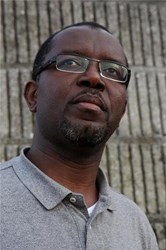 Claremont, Calif. (PRWEB) February 18, 2014
Louis-Philippe Dalembert, an award-winning Haitian writer whose works have been translated into Danish, English, German, Italian, Romanian and Spanish, lectures on "Writing Since Childhood" on March 6 at 4:15 p.m. in Scripps College's Humanities Auditorium, 981 N. Amherst Ave. This free event is open to the public.
A celebrated poet, novelist, essayist and journalist, Dalembert is a recipient of Scripps College's spring 2014 Erma Taylor O'Brien Distinguished Visiting Professorship. He visits Scripps the week of March 3 to lecture in classes and meet with students.
His writings often reference his challenging childhood in his native hometown of Port-au-Prince, Haiti. Soon after he was born, his father died and Dalembert was subsequently raised by female relatives in Haiti's capital. A current resident of Paris, Dalembert has traveled extensively throughout the world and those experiences have significantly influenced his writings.
A recipient of such awards as the Prix RFO du Livre and the Premio Casa de las Américas - one of Latin America's oldest and most prestigious literary awards - Dalembert went on to graduate from Université Paris III – Sorbonne Nouvelle, with a doctorate degree in general and comparative literature. Last year, he was a visiting associate professor of writing, French film and Caribbean literature at the University of Wisconsin-Milwaukee.
Named in honor of Erma Taylor O'Brien '36, the O'Brien Distinguished Visiting Professorship was endowed through her estate. The professorship allows Scripps College to host visiting scholars-in-residence whose expertise in the liberal and fine arts fields significantly enriches academic thought.
Scripps College was founded in 1926 by Ellen Browning Scripps, a pioneering philanthropist and influential figure in the worlds of education, publishing, and women's rights. Today, Scripps is a nationally top-ranked liberal arts college and women's college with approximately 950 students, and is a member of The Claremont Colleges in Southern California. The mission of Scripps College is to educate women to develop their intellects and talents through active participation in a community of scholars, so that as graduates they may contribute to society through public and private lives of leadership, service, integrity, and creativity.