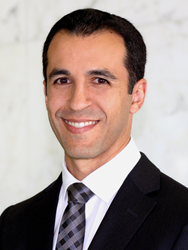 This award is truly an honor to receive.
Beverly, Hills, CA (PRWEB) February 25, 2014
Ari Nowain, MD, a Beverly Hills board-certified gastroenterologist at La Peer Health Systems has been honored as a Southern California SuperDoctors® by Los Angeles Magazine. Dr. Nowain was nominated for this prestigious award by his peers in various fields of medicine. He received this designation based on his credentials and record of outstanding achievement in gastroenterology.
"This award is truly an honor to receive," said Dr. Nowain. "It is especially meaningful because it was granted by other doctors in the field."
The title SuperDoctor® is granted to only 5% of physicians in all of Southern California. It involves an exhaustive process by which the top doctors in the medical profession are consulted and asked to choose those whom they would seek treatment from themselves. Once this has been completed, the pool of doctors is further narrowed based on achievements and credentials such as leadership positions, research publications, and years of experience.
"Knowing that other doctors would come to me themselves or even send their family and friends is a great feeling," said Dr. Nowain. "It means we're offering the level of treatment that our patients deserve."
Dr. Ari Nowain is board-certified in gastroenterology and internal medicine with a special focus in the areas of hemorrhoid band ligation, colonoscopy, upper endoscopy, and capsule endoscopy. He is also co-director of the Colonoscopy Center of Excellence and has staff privileges at the Cedars-Sinai Medical Center in Los Angeles, California. In addition, Dr. Nowain is the founder of the Center for GI Health where he specializes in treating disorders of the digestive system. These include conditions of the stomach, small intestine, esophagus, colon, liver, and more. He is also an expert in using advanced techniques such as upper endoscopy and lower endoscopy to diagnose and treat gastrointestinal issues.
La Peer Health Systems is an outpatient surgery center in Beverly Hills, founded by doctors and focused on providing excellent patient care alongside the most cutting-edge medical treatments available. With 50 world-renowned physicians in 14 specialties, comprehensive medical treatment is offered that takes patients from consultation to diagnosis, treatment, surgery, and ultimately aftercare. The 14 medical departments include orthopedics & sports medicine, gastroenterology, head & neck surgery, colorectal & general surgery, podiatry, ophthalmology, pain management, plastics & reconstructive surgery, gynecology, spine surgery, interventional cardiology, bariatric surgery, thoracic surgery, and anesthesiology. Unlike large hospitals, La Peer's unique structure offers extremely personal care in a safe and controlled environment.
To learn more about La Peer Health Systems, visit http://www.lapeerhealth.com.