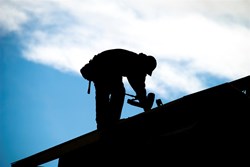 Burbank, CA (PRWEB) February 18, 2014
Roofing contractors can now take advantage of a great new general liability program being offered by USA Business Insurance. This product provides state-of-the-art liability protection for all working roofers. The coverage kicks in when a claim is received that applies to any of the liability coverages such as bodily injury, medical payments or property damage.
One of the benefits of this liability program is that it covers anyone who is doing work for the roofing company in any capacity. This could be the owner, an employee, a salesperson and even a spouse. Also, if a customer is hurt in a slip and fall while visiting the roofer's shop, the liability coverage on this policy will cover all costs related to the injury. This includes any medical bills, judgments and expenses to fight the case, if necessary.
"A roofer needs good general liability insurance as part of a well-rounded portfolio that includes workers comp and commercial auto policies," said a spokesperson at the Burbank, California based USA Business Insurance. "The exposure, especially for roofers, is there and just one claim could close the business down if there is no liability insurance.
About USA Business Insurance
The general liability insurance program offered by USA Business Insurance is tailored for roofers. It contemplates the exposures particular to that job. In addition, USA Business Insurance offers similar liability products (as well as other insurance lines) for many other types of businesses.
For more information, click here.